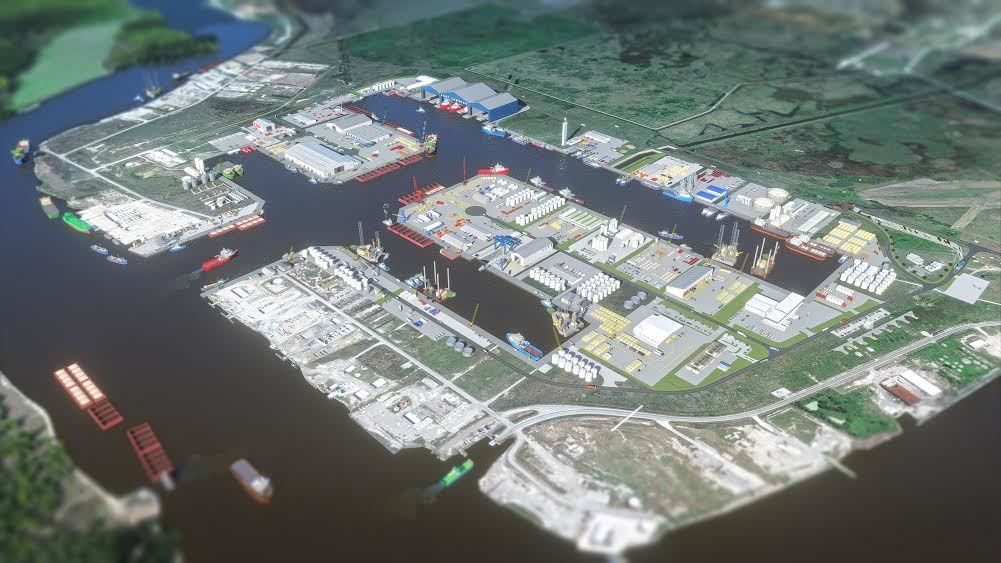 Peterson, a European offshore logistics company, is finally making its mark in the Americas. Jeremy Cresswell talks with its CEO Erwin Kooij and director Murdo MacIver.
In February, Peterson Offshore Group (POG) signed a teaming partnership agreement with Port Cameron for the development of a $1.5billion, 500-acre deepwater port at Port Cameron in Louisiana to service the US Gulf of Mexico offshore energy industry.
Last month, the company finally pulled off a five years with options contract with BP to provide integrated logistics services for its operations in Trinidad & Tobago.
These two deals were achieved in one of the most difficult trading environments yet encountered by the upstream oil & gas industry, particularly offshore.
Some would regard what Peterson has accomplished as counter-cyclical; but whatever the interpretation put on the transactions, they mark a major expansion of the group into what can broadly regarded as the Americas.
Peterson was established in 1920 as a family owned inspection company for grain, which was traded and transported on the rivers and canals of the Netherlands.
It was in the early 1980s when today's offshore business was seeded by Erwin Kooij, who is CEO of POG.
"When I started this side of Peterson … that was in 1983 … we were awarded a contract by Shell NAM in The Netherlands," he recalled.
"Peterson Offshore is part of a larger group that operates in 70 countries, but the oil & gas division was originally only focused on The Netherlands.
"In the beginning, before we were awarded the Shell contract the focus was on one-well operators. They would come to the Netherlands, we would support their operations with supply base storage, that kind of thing. But with the Shell NAM win the business began to change."
In those days the North Sea had a fragmented offshore logistics network … various companies operating out of many more bases than now. Kooij said this started to change as the North Sea industry grew but then along came the first oil price shock.
"The oil price dropped and clients were looking for savings. And one of the things we saw starting to develop was the sharing of supply bases. Some clients were neighbours anyway and one of the first initiatives was vessel sharing.
"We figured that if they were prepared to share a vessel then why not other services including warehousing.
"There was a report commissioned by Shell that looked at the Dutch market and, at that time, the advice was that all operators should work together and share offshore logistics services where possible. The reaction was that you can't do that; though eventually it happened."
The first oil price shock came and went, things settled down again, or at least until the next crash. And that occurred in the late 1990s.
For Kooij the 1990s appear to have been a good time. Consolidation of services … sharing … was gaining traction, especially in The Netherlands, it seems. The second oil price quake accelerated the process.
"What we saw is that in the 90s it (consolidation) went very fast. We saw that these initiatives started to grow, such that today we serve nine operators out of Den Helder … one supply base. Once we had nine bases; now there's one. There's one shared fleet too.
"It was in 2004 that we focused everything into Den Helder. We had basically stepped into the role that operators had previously done … namely chartering vessels. Eventually everything was outsourced to us in The Netherlands regarding management of the offshore operations supply chain."
By that time, significant changes were also happening in the UK sector and the archives of Energy's parent, The Press and Journal, record some of what happened, especially with local market leader ASCo.
Kooij has his eye on the UK market and the clincher for Peterson came about through deals that changed the logistics-scape in Aberdeen for good.
In February 2006 it was revealed that SBS Logistics had acquired the business and assets of Seaforth Maritime for an undisclosed sum. The funding package being provided by Bank of Scotland Corporate.
In March 2008, POG and SBS Logistics jointly stated that they were to restructure and re-brand their businesses in the Netherlands and in the UK.
Basically, SBS became a wholly owned subsidiary of POG, trading as Peterson-SBS. The existing Dutch companies belonging to the group would also thereafter trade under the name of Peterson-SBS.
In 2012 there was a further Aberdeen transaction when Peterson took a controlling interest in 80:20 Procurement.
Collectively they added up to a major change in the North Sea logistics-scape.
Kooij: "When Peterson started in oil & gas we had to compete with big names like Neddlloyd and even ASCo at that time as it was active in The Netherlands. We were the underdog. We recognised the same in SBS where ASCo ruled.
"The change started with its acquisition of Seaforth. And the model developed, including providing share facilities was extended to Heysham to serve the Morecambe Bay gasfields."
Sounds easy; but it wasn't. And one of the lessons that Kooij admitted to Energy was that he could not simply cut and paste the Peterson Netherlands model onto the UK North Sea logistics stage.
By then, Kooij was looking to export the Peterson pooling model not just to the UK but elsewhere; and emphasis would be on seeking out existing local logistics markets and capitalising on those rather than starting from scratch in such locales.
"When we took our first steps in India, for instance, we did this so we didn't have to overcome the local challenges of starting up from scratch overseas. Having that existing experience and infrastructure already in place makes it easier for us to step in.
"One of the things we look for when looking at new opportunities is mature markets; like the North Sea, like the US Gulf of Mexico, like some other places where a lot of operators have their supply chain requirements operated out of silos next door to each other and where there is therefore the potential for Peterson to come in and set wheels of change in motion towards its integrated business model," said Kooij.
It is in effect displacement, though Kooij is not keen on that as a description. The Peterson model is about enabling significant cost savings and gains in logistics efficiency through sharing resources such as boats and bases.
The Peterson model has for long been built around managed capacity … not specific ships, trucks, warehouses or whatever as has been the traditional way, especially with maritime industries.
The operator is no longer hiring a boat or truck, it is renting capacity, which allows for greater flexibility of utilisation. Simples! Yes, but only with appropriate management systems. In that regard, Peterson has invested heavily in enabling technology. But so too has everybody else, so what is the differentiator?
"We developed it from the user … up. It's not a top-down driven product. It was developed from the user's perspective," claimed Kooij.
With yet another Offshore Technology Conference upon the industry, this year Peterson is expecting a lot of interest in its US adventure and playing a major role in this new adventure is Murdo
MacIver, a veteran of the North Sea logistics scene, a director of POG and who started his career with the Scottish fabrication yard Lewis Offshore.
The US GoM logistics machine is perhaps less disparate than perhaps many industry people imagine. Operators are catered for mostly through one supply base but in a different way to the North Sea.
MacIver: "The US GoM is a chance to replicate what we've done around the North Sea.
"What we're trying to do with the Port Cameron opportunity is create a choice and create more efficient and effective mechanisms to operators by delivering what we've done in the North Sea … collaboration and partnership.
"Port Cameron is a new facility that's being developed over the next couple of years. They (the developers) came to us to see if we were interested in a partnership. They said there was a need for something different within the US Gulf region."
The idea of a new port serving the US Gulf market had been knocking around for a number of years, but it really started to motor last summer.
Late May/June, the company proposing Port Cameron said it had selected Citigroup Global Markets Inc as its financing manager for the project.
The port, now under construction, is located on the Calcasieu Ship Channel, 185 miles east of Houston and just south of Lake Charles. Though currently mapped as covering 500 acres, an additional 750 acres available for expansion in the future.
Building a new port is rare and it seems that Peterson has been able to get in more or less at the beginning of the project.
Upon completion, Port Cameron in Louisiana will be one of the largest private energy services facilities on the Gulf Coast.
The agreement will see Peterson serve as port manager with the option to lease up to 1.2million sq ft of space in Port Cameron Logistics Center. The proposed development will feature more than 21,000 linear feet of bulkhead lots on dredged slips of 500ft and 700ft wide and dredged depths of 33ft.
Is this a big step for Peterson?
MacIver: "What we will do at Port Cameron will not be any different to the way we do things at Den Helder or Aberdeen. In terms of volume of business I see it as comparable."
Kooij added: "What we see in the industry is that there is a change required with regards to managing costs. What we shouldn't do … us as a logistics provider … is that we copy-paste, like we tried before."
It will be about getting US operators to think and act differently and it means that Peterson will have to bridge into the current US GoM supply chain network and, in short, create a slick, seamless network with itself playing the linchpin role.
"We strongly believe that if we engage, we'll able to offer the market something different," said Kooij.
But there are a lot of operators on the GoM Shelf, so surely a central Peterson will be one of match-making. And in the company's forward plan, what is the forecast for number of client operators?
MacIver replied: "Our focus will be on the bigger ones; and some are already clients of Peterson. They already know our capabilities. What we're not trying to do is change the shape of the Gulf.
"You've got to understand that Port Cameron sits midway between Houston and Port Fourchon. What we're looking to do is create an opportunity for greater efficiency of transportation of equipment and oilfield consumables to offshore platforms.
"The plan is to be ready within the next two to three years. Just now we're focusing on working with the port developer and developing a customer base.
"By the time the port is built we should be ready to roll with various clients. But it will be an evolution rather than a revolution."
One of the tools that Kooij intends to use is a system developed in Aberdeen and known as AMLA … Aberdeen Maritime Logistics Alliance.
"I consider it to the Uber of oil & gas," said Kooij. "It's where technology helps, firstly to show our customers … the members of AMLA … when the sailings are and, rather like ordering goods and services on the internet, in just two or three clicks you can book your cargo onto a vessel (with spare capacity) and so-forth. Behind the scenes we take care of everything.
"The client can see immediately what the costs and savings are, not only in terms of money but also things like carbon footprint. This is where the market is headed."
But at the heart of all of this is a traditional business built around picking up cargo, putting it on a struck, bringing it to a quayside, putting it aboard a vessel and delivering it offshore. The basic principle is still the same."
Finally and briefly, the BP deal covering Trinidad & Tobago and where expectation is that the Peterson model will deliver cost and efficiency gains.
As already widely reported, not only does this contract significantly expand Peterson's footprint in the Caribbean region, it builds on the company's existing long-term relationship with BP, which includes supporting some of its UKCS North Sea operations from Peterson's Shetland supply base.
The US Gulf of Mexico offshore industry started in 1949; the North Sea but 50 years ago. It has taken time, but at last it looks as if a European supply chain model has finally turned the tables on more conservative US domestic practice.