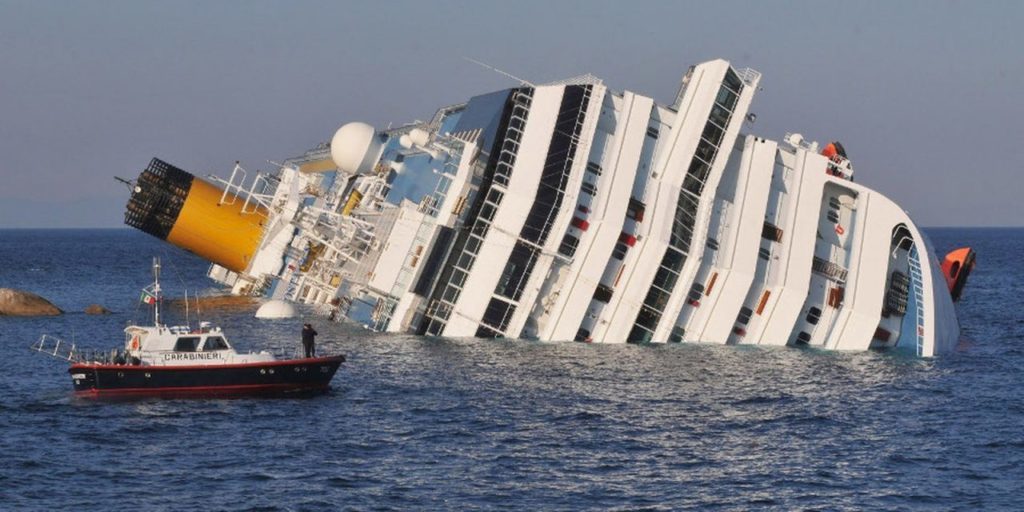 Techniques used to salvage capsized ships can be applied to the decommissioning of oil platforms, according to a new consortium.
Lloyd's Register (LR), WorleyParsons and Ardent said their decommissioning partnership would create a "new benchmark" for the sector.
They vowed to provide a cheaper alternative to the use of giant vessels designed to lift and carry oil platform topsides.
The venture will adopt approaches used in other industries, including marine salvage.
LR said topsides could be cleaned and made buoyant before being cut from their foundations and toppled into the sea.
The installations could then be towed ashore using anchor-handler vessels.
Alasdair Buchanan, group energy director at LR, said "float and tow" could be done at a fraction of the cost of "lift and carry" operations involving a heavy lift vessel.
He also said the process should be quicker, because operators won't have to wait for heavy lift vessels to become available.
The float and tow operations would fall primarily under the remit of Ardent, which was behind the salvage of the Costa Concordia cruise liner.
The ship capsized off the coast of Italy in 2012, killing 32 people.
The consortium hopes to intervene early in the decommissioning process.
The group said it could handle late-life asset management, plan and execute the removal of infrastructure, and take care of dismantling and waste management.
The consortium can also oversee the plugging and abandonment of wells.
Mr Buchanan said: "At the end of an asset's life, operators do not want to divert a lot of talent into decommissioning. They would prefer to hand that over.
"They want to focus on exploration and production, not on the decommissioning of redundant assets.
"Having a consortium that can manage decommissioning from cradle to grave is of great value to the market place."
Steve Gilbert, director of asset management and decommissioning at LR, said: "Decommissioning can be daunting − the cost uncertainty, the colossal project scope and the unknown long-term liabilities.
"The consortium helps to reduce the overall cost, time and liability burden for operators and allows them to focus resources on more fruitful activity, knowing that their decommissioning project is in safe hands."
Ardent chief executive Peter Pietka said: "We bring to the consortium over 150 years of maritime retrieval experience, as a global leader in salvage and wreck removal.
"Through our expertise, we are in the unique position of being able to apply techniques and learnings from other sectors such as marine wreck removal, to improve how to tackle the increasingly important challenge of decommissioning offshore oil and gas infrastructure."
John Cox, global decommissioning lead, WorleyParsons, said: "This consortium provides a new benchmark in cost-effective decommissioning activities, with safety and peace of mind for the operator."