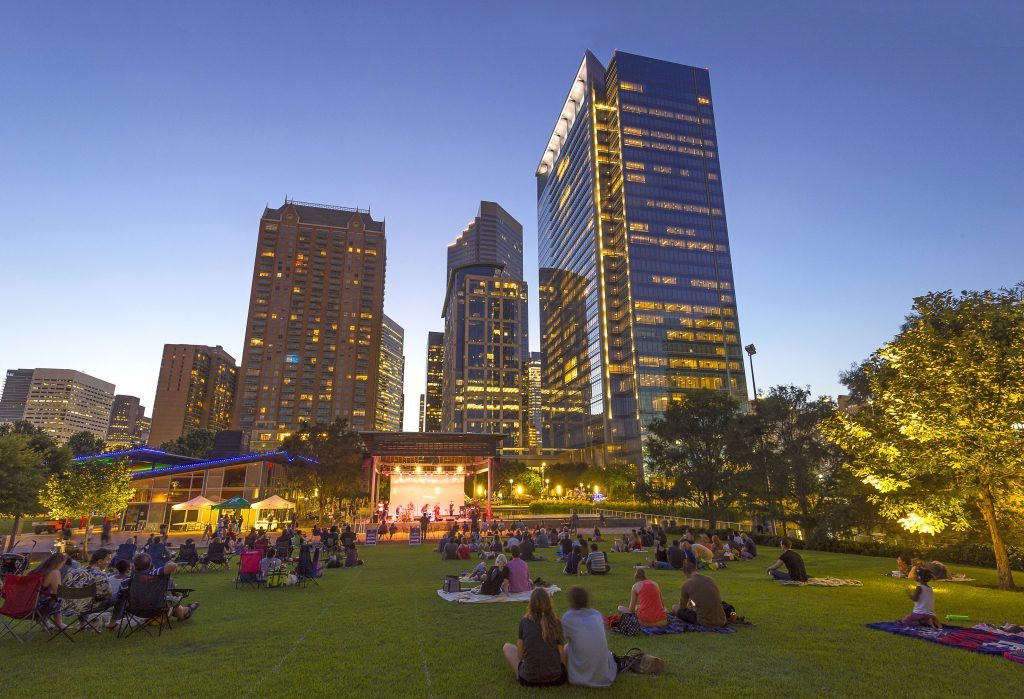 I remember clearly that when Aberdeen first looked at redeveloping Union Terrace Gardens, Sir Ian Wood – now chairman of the economic development outfit Opportunity North East (ONE) – claimed that it would help turn Aberdeen into "the Houston of the east".
Would it? I doubt it. But it was absolutely the right aspiration to have if only it made Aberdeen look hard at what Houston had achieved.
Okay, I accept that Aberdeen is a lot smaller than Houston and only has close to 10% of its population but it's the third largest city in Scotland and is seen by Scots at least as the energy capital of Europe.
You would expect therefore that – just like Houston – it would have a diverse and high value economy albeit on a smaller scale. To me this seems like a reasonable expectation. Isn't it?
Now I haven't been to OTC for a few years. I went regularly during the 1980s and occasionally in the 1990s, although I did find that it became
somewhat repetitive, or maybe I'm just a lot less easily impressed than I used to be.
But, on the other hand, that did mean you could spend more time with old friends putting the world to rights over a bottle or two of something appropriate.
That's certainly never time wasted!
But rather like when I now go to see my granddaughters in Seattle you can't help but get the feeling that it and Houston are cities on the rise.
They're dynamic, enterprising and buzzing with ideas being promoted by enthusiastic people of all ages and backgrounds. I love it.
For example, EDF – the French majority state owned company – is partnering with the US Department of Energy, the Houston-Galveston Area Council, the Gas Technology Institute, US Hybrid, Richardson Trucking, and the Texas University Centre for Electromechanics on a three-year demonstration project at the Port of Houston using fuel cell technology to move goods around.
Houston University physicists have found a way to make the electrolysis process more efficient and cheaper.
They've developed a catalyst, made from cheap nickel instead of costly precious metals used currently.
This could mean hydrogen fuel costing significantly less than it does today.
The Greater Houston Partnership has convened a group of alternative energy companies to help it address how Houston can better foster growth for wind, solar,
batteries and electric car technologies.
During a speech in January at the partnership's annual meeting, its chief executive, Bob Harvey, said Houston can expect growth in renewable energy in the next few years and the business community needs to be prepared for it.
"As we work to maintain our lead in traditional energy, we must ramp up our efforts to develop and attract alternative energy companies to complement the work we are already doing," Mr Harvey said.
"As the global energy mix evolves, we must ensure that we maintain our role as the energy capital of the world, including 'new energy'."
Houston is of course already home to a handful of larger renewable energy companies, including Pattern Energy, solar company Sunnova and Clean Line Energy Partners, which builds transmission lines for renewable energy projects.
According to the Solar Energy Industries Association, more than 100 companies involved in some aspect of the solar industry have offices in Houston.
Houston is also the North American headquarters of Portuguese firm EDP Renewables, which has developed more than 6,200 megawatts of renewable energy projects in Canada, Mexico and the US and is one of the world's top three wind energy producers. It is now moving into offshore wind.
In Aberdeen we're beginning to hear talk about the use of robotics offshore.
That said, one of the first projects involves a German/Austrian consortium. Not a Scottish company to be seen.
In Houston, though, they already have a company called Houston Mechatronics which develops robotics components, including motion controllers, electric machines and actuators.
They also make robot-specific communication architectures and custom sensors so they can design, develop and build robotic systems for a wide range of applications, including oil and gas.
In short they're already capable of doing what we've talked about doing for years.
Houston has had a torrid recent few years.
In addition to the downturn in the oil and gas industry, in August 2017 Hurricane Harvey hit the Texas Gulf Coast and dumped more than 50 inches of rain over a three-day period, leading to widespread flooding, wrecking homes, businesses and infrastructure.
The city's recovery though has been nothing short of spectacular and, whilst there's still a lot to be done, business activity would appear to have reverted to close to normal very quickly.
For example, according to the Colliers 2018 Economic Outlook for Houston, the biotechnology and life sciences industries generally continue to expand in the Houston region with more than 100
institutions and companies attracting more than $2.2billion in research and development funding annually.
These are numbers Aberdeen can only dream of.
I've no idea how much bigger it is than the Aberdeen city and shire life sciences sector but I'm guessing the answer is "a lot".
Houston has the Johnson Space Centre. This huge establishment encompasses companies such as Boeing, Lockheed Martin, Jacobs Engineering,
Oceaneering Space Systems (Yes, that Oceaneering) and Raytheon. These are all big employers. Oh and we shouldn't forget Houston's growing nano-technology sector. I counted about 30 companies operating in this sector already.
For Aberdeen, a lack of economic diversity and investment and an ongoing obsession with oil and gas are major obstacles.
ONE's hopes of building on Aberdeen city and shire's food and drink, agriculture and fishing, life sciences, oil and gas and tourism sectors is laudable, but it isn't going to come close to what's needed, not just to replace oil and gas jobs already lost, but also those which will inevitably be lost over the next few years.
Whilst you're in Houston for OTC have a look around.
It really is an object lesson in economic development and we need to learn from it.