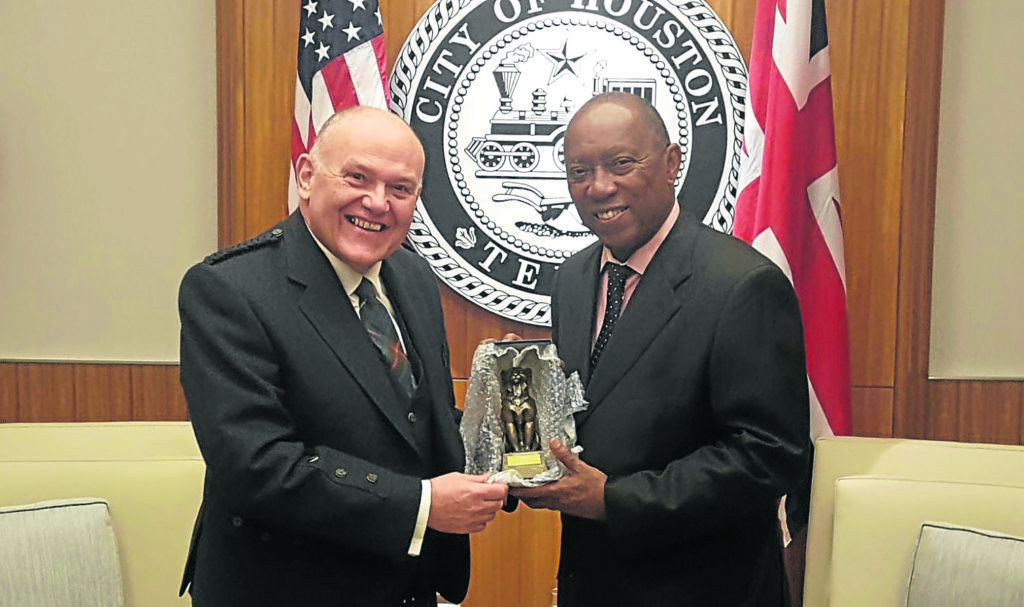 Aberdeen's Lord Provost Barney Crockett was the only British politician to attend a major oil and gas conference in America this week.
Ministers from Scottish and UK governments have previously visited the Offshore Technology Conference (OTC) in Houston to promote the North Sea.
But last night both governments confirmed they had sent no elected representatives – while the Norwegian government sent many.
Dressed in full, ceremonial tartan regalia, the Lord Provost met dignitaries, business figures and other politicians including Houston's mayor Sylvester Turner and Bob Harvey, president and CEO of Greater Houston Partnership.
The OTC is the world's biggest offshore conference and featured around 70,000 delegates and 2,000 exhibitors.
The conference began on Monday and ended yesterday.
Mr Crockett's foreign travels with the council have attracted heavy criticism in the past.
But last night he gave a "guarantee" he would continue to attend the conference while he remained lord provost.
He said: "I think we have seen some commitment to the North Sea with the city region deal but the industry needs to be promoted internationally at every level of both Scottish and UK governments.
"With the new dawn that is approaching with Brexit we need to be out in the world drumming up business.
"There are more than
30 Norwegian politicians and they are not wasting time."
A Department for International Trade spokesperson said:"There is a significant UK presence at OTC with the Energy Industries Council managing a UK Pavilion showcasing 46 UK oil and gas companies.
"HMG also has a strong presence at the event and saw the Department for International Trade host a UK Innovation Day highlighting UK exporters. UK Innovation Day event was attended by the UK's Deputy Head of Mission to the US, Michael Tatham.
"DIT officials based in Houston are joined by colleagues from across DIT's international network and are supporting UK companies at the event to help them win business, as well as encouraging foreign investment from US firms into the UK."
A Scottish Government spokesman said that no ministers had attended due to "parliamentary business".
He added: "The Scottish Government was represented at OTC Houston by a delegation from Scottish Development International, and the head of the Scottish Government's North American team based in Washington DC."