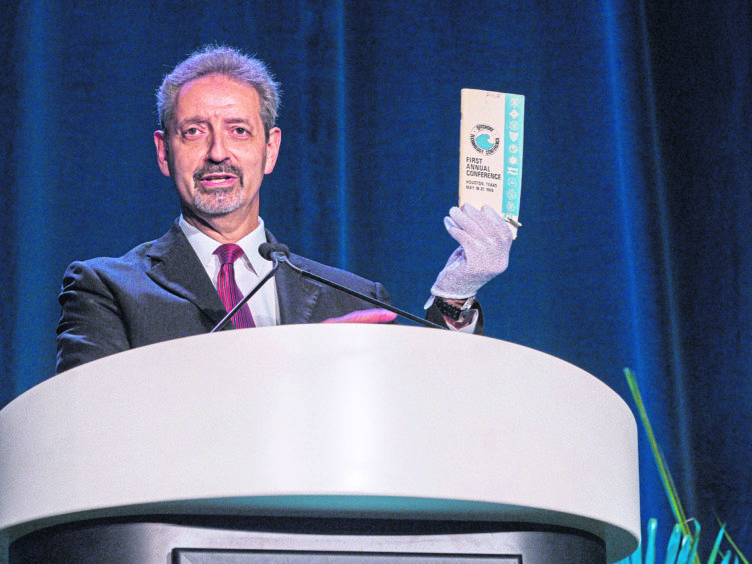 The agenda for this year's Offshore Technology Conference (OTC) in Houston can be compared to the strategies of most oil and gas majors.
The board members have put together a programme which they feel reflects the growing importance of renewables and digital technology in paving the way for the energy transition, but which doesn't ignore core activities.
OTC in 2019 boasts more marine renewables technical sessions than ever before, occupying more than a third of the programme, while about a fifth are devoted to digital.
Event chairman Wafik Beydoun said the make-up of the programme reflected the organisers' desire to "embrace the future".
At last year's event, which was the 50th edition of OTC, industry executives at the opening ceremony recognised the previous five decades of offshore innovation.
This time around, the panel at the curtain-raiser will explore how firms are preparing for the next 50 years, whether that means artificial intelligence, automation or machine learning, nanotechnology or robotics.
Mr Beydoun said: "We're adding some new things, but are maintaining our core activity.
"How to improve our technology for oil and gas exploration, offshore safety and drilling – we will still have those sessions.
"But now we are much more engaged in marine renewables. I'm talking about offshore wind, but also hydrokinetic – wave and tidal.
"How to harness that and turn it into electricity. We will have 14 sessions on marine renewables.
"It follows a trend in industry. We need to be at the front of that kind of technology – testing and sharing what others have tested in marine renewables.
"It's a big effort and the board really drove that initiative to have more renewables."
Mr Beydoun said most major oil and gas companies were embracing the energy transition, acknowledging societal concerns and showing more responsibility.
He gave a nod to the Oil and Gas Climate Initiative, a coalition of global oil and majors who are taking action to address climate change, as evidence of that trend, and said
OTC would look to promote industry's efforts to get greener.
Not all of the innovations presented or discussed at the show, first held in 1969, will be operational or reach commercialisation, but that's not the point.
The board's aim is to provide a forum for people to exchange ideas about technology that can reduce companies' carbon footprints, improve production efficiency, make drilling more attractive, or reduce risk.
OTC 2019 will also look at new developments in the production of gas hydrates trapped in ice beneath permafrost or ocean sediment.
Some experts say gas, or methane, hydrates have more potential
than all of the world's other remaining natural gas resources combined.
But gas hydrates become unstable when heated, and methane is known to be more than 20 times more potent than carbon dioxide when released into the atmosphere.
Mr Beydoun said the technology needed to safely produce gas hydrates was still in "research mode".
He said: "There has been a growing list of international projects dealing with gas hydrate production concerns.
"The most active projects with plans for additional field studies and tests include those in Japan, China, India and in northern Alaska.
"Additional geology and geophysics studies and marine drilling projects, such as the recent DOE/University-Texas drilling and coring project in the Gulf of Mexico, are making significant contributions to our understanding of the energy resource potential of gas hydrates.
"At this OTC, there are a couple of sessions discussing the current status of developing gas hydrate resources while summarising lessons learnt from the past."
The UK's future will be thrust into the spotlight on Wednesday, May 8, in two panel sessions as part of OTC's "around the world" series.
The first session will discuss the gaps and needs for the UK's Continental Shelf and the opportunities they present for firms looking to invest.
The second session will delve into transferable technology and skills from oil and gas to offshore wind and the opportunities for companies looking to diversify.
Participants include Stuart Payne, director of HR and supply chain at the Oil and Gas Authority; Rogeiro Mendonca, vice-president, Baker Hughes, a GE Company;
and Ian Phillips, chief executive of the Oil and Gas Innovation Centre.
Recommended for you

China offshore wind offers niche opportunities for Scottish players