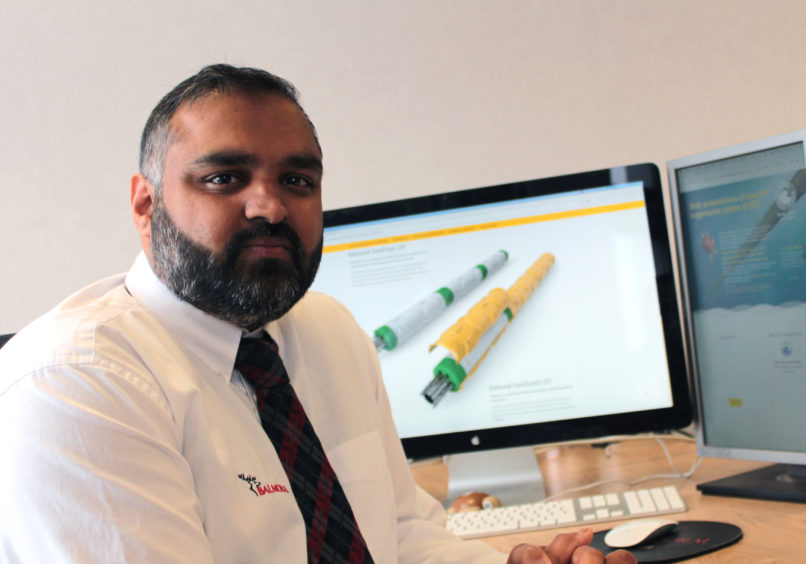 Aberdeen firm Balmoral Group said a cost-saving product it is showcasing at the Offshore Technology Conference in Houston has had a "fantastic response" from industry.
Balmoral's offshore engineering division designed DuraFloat LDV to reduce the impact of subsea vibration and drag on risers, flowlines, umbilicals and power cables.
The equipment was inspired by sea turtles, whose shells have been "proven over millennia to provide a highly efficient and low drag structure".
Balmoral believes the equipment can make a "major contribution" to its revenues and save drillers hundreds of thousands of pounds.
Keeping riser motion to a minimum would lower costs by preventing subsea equipment from wearing out too quickly.
Dr Aneel Gill, Balmoral's head of R&D, said; "The revolutionary hex design eliminates the need for ancillary suppression equipment and can reduce time-consuming activities when running and removing drill stacks, for example.
"It is also recognised that reduced riser motion due to vortex induced vibration suppression dramatically improves the fatigue performance of subsea equipment resulting in further cost savings by extending the service life of wellhead and conductor/casing equipment."
Three versions of the system have been developed. DuraFloat LDV is a drilling riser buoyancy module that incorporates the unique hex design.
DuraGuard LDV is a retrofit option allowing clients to re-use existing drill buoyancy modules, while an integrally clamped buoyancy option can be used on flowlines, umbilicals, power cables and jumpers.
Dr Gill will be presenting papers on the technology twice daily on Booth 1339-A during OTC.
Balmoral, which employs more than 600 people, has been providing solutions to the energy, engineering, marine, building, polymer engineering and processing sectors since 1980.