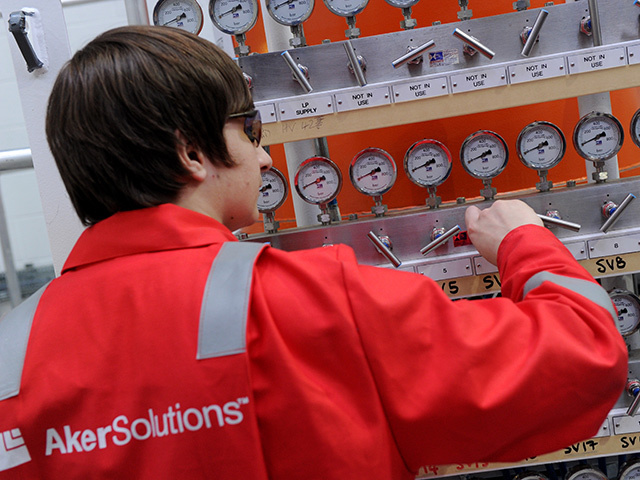 Aker Solutions was celebrated as the best subsea firm of the year at a prestigious industry event in Aberdeen last night.
The Norwegian energy service firm took the top company gong at the Subsea UK Awards, while Subsea 7 global business development director David Bloom was honoured for his outstanding contribution to the sector.
Robert Weeks, lead engineer at JDR Cable Systems took the accolade for young emerging talent.
Aberdeenshire-based Fathom Systems was crowned small company of the year and also won the innovation for safety award.
The global exports award went to JDR Cable Systems, which designs, engineers and manufactures subsea equipment, for its rapid expansion into key international markets.
Recognising the achievements of companies and employees in the £9billion UK subsea industry, the accolades were presented at a gala dinner during the annual Subsea Expo event at Aberdeen Exhibition and Conference Centre.
Hosted by industry body Subsea UK, with award-winning writer and broadcaster John Sergeant as guest speaker, the annual celebration of subsea success saw winners honoured in front of more than 600 guests.
Aker, with several thousand UK-based employees, including a large presence in Aberdeen, also won the award for innovation and technology for its Vectus subsea electronics module.
David Clark, regional president of the UK and Africa for Aker, said: "To secure two such important awards is recognition of the hard work and commitment we have shown towards finding ways to unlock energy safely and sustainably for future generations, despite the challenges the industry is seeing, and I am very proud of everyone who has played a part in it."
Mr Bloom's award celebrated a career spanning more than 40 years since he joined the offshore industry in 1975 as a financial controller with Oceaneering, where he worked for 20 years.
He left Oceaneering in 1995 to take up the role as business development manager for UK and Europe at Jay Ray McDermott before joining Subsea 7 in 2005.
The award for Mr Weeks recognised his work on a variety of projects, including the design and development of the first JDR hybrid steel tube umbilical.
Subsea UK chief executive Neil Gordon said: "The past 12 months have been extremely challenging for subsea companies, however, in times like these it's more important than ever to celebrate success.
"All entrants demonstrated the innovation, talent and leadership that's needed to hold on to the UK's world-leading position in subsea."
Mr Gordon said the outstanding achievement honour for Mr Bllom was richly deserved, adding: "Not only has he contributed significantly to the industry over the course of his career, he has overseen Subsea 7's ambitious expansion plans to great success and worked hard to position the firm as a global leader in its field."
Recommended for you

Future North Sea: 'Subsea electrification is ready to go mainstream'