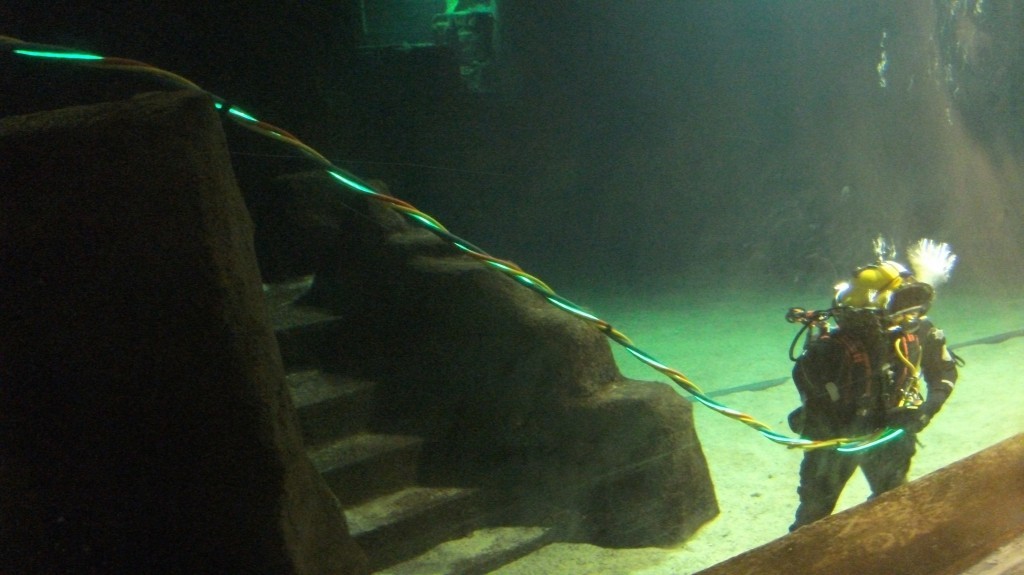 Scottish research and development company PhotoSynergy Ltd (PSL) has won work with a North Sea operator for the first time, using its Lightpath technology in diving operations.
The St Andrews-based firm, which is attending Subsea Expo in Aberdeen, revealed international inspection, repair and maintenance (IRM) companies Harkand and Bibby Offshore have announced they will also use their products in subsea operations.
Lightpath is a side-emitting flexible fibre that projects a continuous line of light but carries no electrical power and has a life expectancy of five years.
PSL has launched the latest in its portfolio of subsea products – the SLS2000 – which was developed following feedback from divers and their teams, providing the option to illuminate the dive umbilical from the diver end.
It was produced following requests from industry for a minimal-sized light source which would not impede the diver during his work.
A small, compact unit at just 30mm in diameter and 70mm long, it was designed to provide a light source to saturation divers using an LED attached to the umbilical at the diver's end.
Operational sea trials of the unit – which can be used in both saturation and air diving – are planned with existing clients following successful competition of final in-house tests and third party pressure testing.
Lightpath helps reduce recovery time as the diver can track and identify their route back to the bell, as well as identify any snags and entanglement of the umbilical due to the variations in colour offered by the equipment.
Divers and ROV pilots can constantly monitor that the umbilical is clear during equipment deployment and recovery, which are generally high risk activities.
PSL director Don Walker said: "We have been operating the Lightpath in the North Sea for the past three years, and the general consensus among the dive community is that divers feel safer using the technology to illuminate saturation diver umbilicals, which enhances safety and productivity for all parties, including the individual diver, colleagues in the water and the bell-man.
"It also gives confidence to the ROV pilot as to the location of diver umbilicals, thus minimising the risk of collision and can significantly reduce the incidence of umbilical snagging, both for saturation and surface air divers."
Harkand, which has been using another of PSL products – the SLS5000 – on two of its North Sea vessels for the past few years, has also recognised the importance of the SLS2000 and is currently in talks with PSL about trialling it.
Jerry Starling, Harkand's group diving manager, and a member of the IMCA diving division management committee, said: "As a company we have recognised that although not a mandatory or industry specific requirement, Lightpath further enhances the diver's ability to manage their umbilical, improving their safety and simultaneously delivering more efficient operations.
"Umbilical management is a key component of diver activity for both safety and time saving reasons.
Bibby is about to start trials of the SLS2000 within the next few weeks.