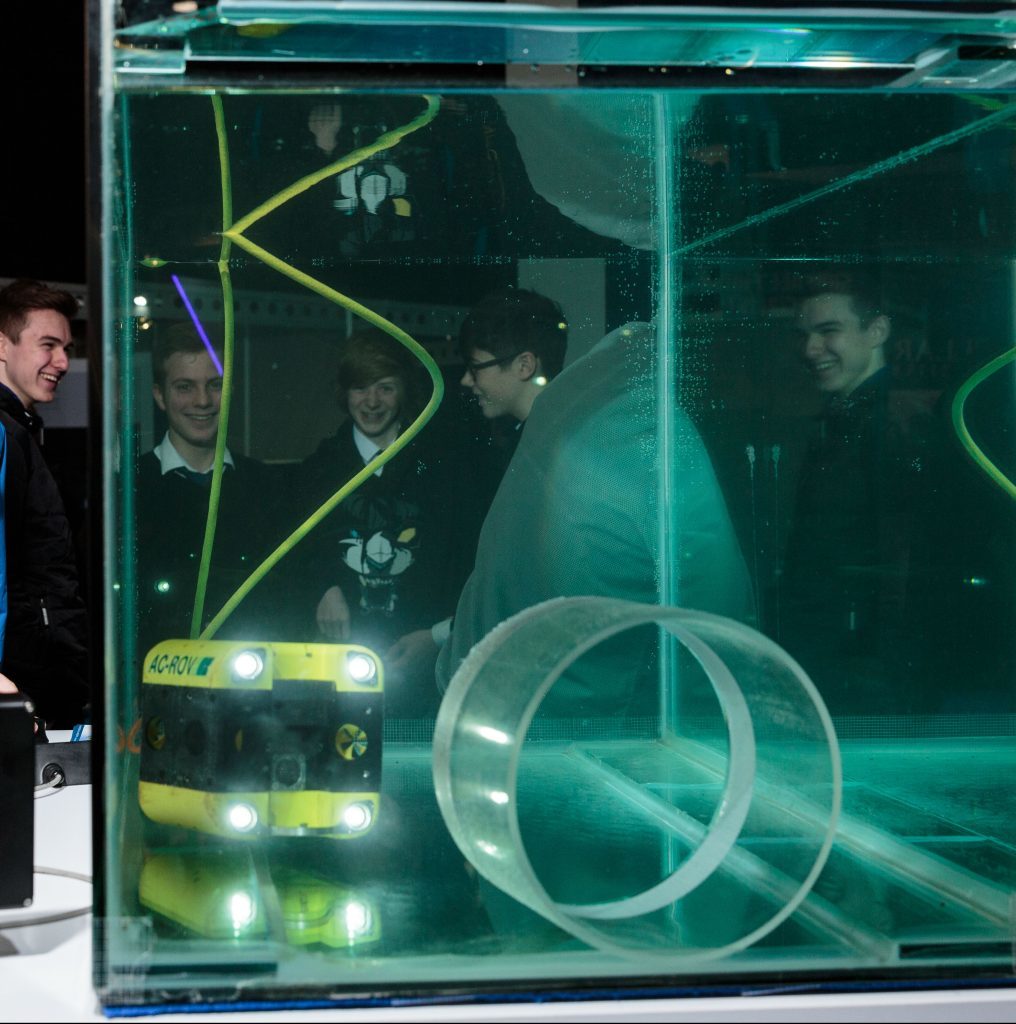 Friday was "future day" at Subsea Expo in Aberdeen as the event welcomed school pupils and students to the show in an effort to entice the next generation of talent to join the sector.
Around 250 school pupils from schools from across the north east, Moray and Fife descended on the booths at the city's Exhibition and Conference centre to learn more about what the industry has to offer.
Thousands of jobs may have been lost due to the oil price slump but businesses must continue to attract potential recruits if it is to survive.
Industry skills body OPITO hosted its Energise Your Future initiative with pupils as young as 13 attending – the first time it has invited pupils of this age to take part.
It believes that by targeting a younger age group it will help children to make more informed decisions throughout their education, and better understand how they can see themselves fitting into the industry.
The pupils met with staff from 20 exhibiting companies involved in the interactive programme.
Now in its eighth year, Energise Your Future will see the pupils meeting up with a broad spectrum of subsea supply chain companies including Aker Solutions, DNV-GL, Iqarus, Aisus Offshore and the National Hyberbaric Centre, among others.
Youngsters had the chance to gain hands on experience including piloting an ROV at Ac-cess, testing response skills at BEL Valves and a demonstration of pipeline integrity and fatigue at DNV GL.
OPITO's UK managing director John McDonald said: "Nothing beats being able to speak with the people who are already working at the companies you aspire to.
"The pupils will be able to discuss anything from future subject choices, entry routes into the industry and what working life involves within each business.
Energise Your Future is now in its eighth year and OPITO has connected over 11,000 young people to the oil industry thus far.
Colin Ross, communications manager at Aker Solutions said: "This event is another great opportunity to show the next generation that the industry does have a long term future and to highlight the opportunities happening right here on their doorstep.
"Investing in young people is something we remain really passionate about. We work with a number of local schools and this gives us a chance to show them what we do.
"They come with a fresh perspective and by engaging with our young professionals group within the business, the pupils can have some fun whilst learning about the industry and the part we play in it."
Calum Insch, 14, from Kemnay Academy, said: "We've heard that there are still really interesting careers in oil and gas. I'm not put off by the jobs situation. I'm certainly considering it and studying maths, physics,chemistry and biology. I'm looking for something interesting, not boring, something where I can get my hands dirty."
Inverurie Academy pupil Alanna Cook, 15, said: "We're excited about what we've seen today. I quite fancy doing engineering. This helps me to see if I can understand it. It's definitely inspiring me."
John Morrison, technical sales at Ac-cess said: "It's so important that we work to bring the next generation into engineering and technology. Participating in Energise Your Future is a great way of doing so and we are thrilled to be involved.
"It's great to see so many youngsters involved and hopefully this kind of initiative goes a long way to providing the talent we need in the future."
Recommended for you

The Dirty, The Dull and The Dangerous