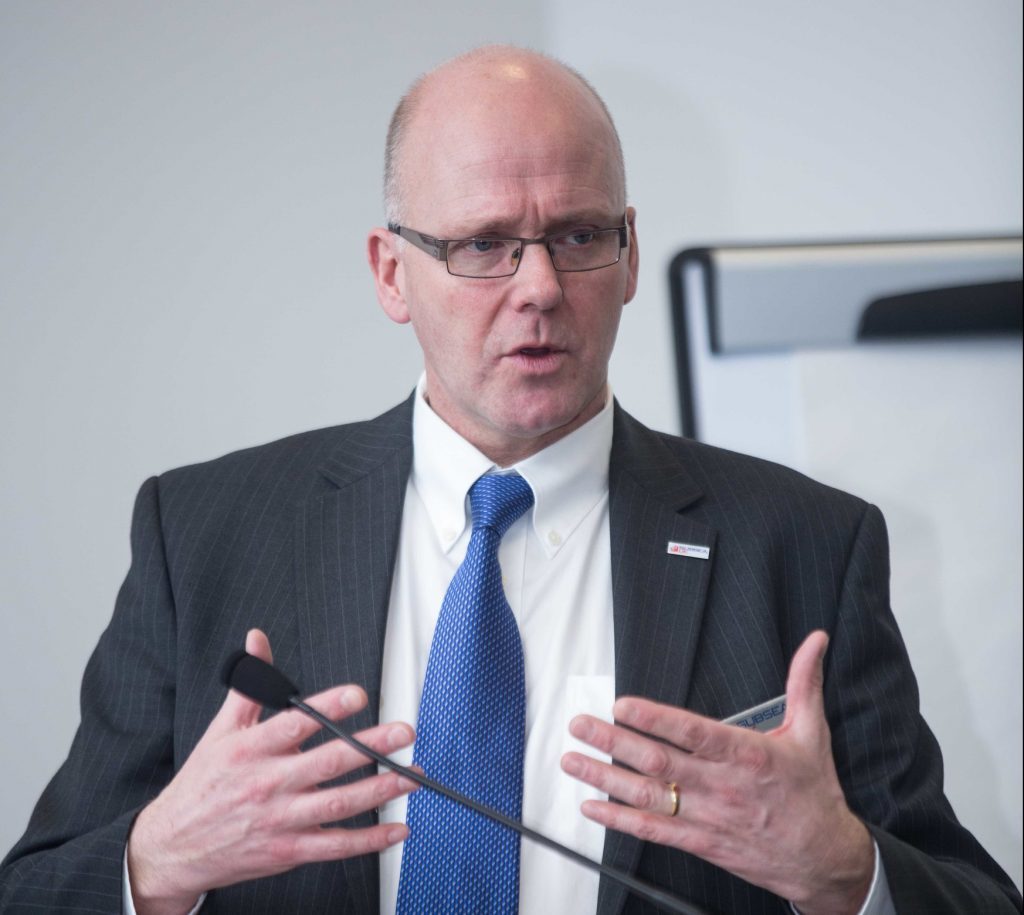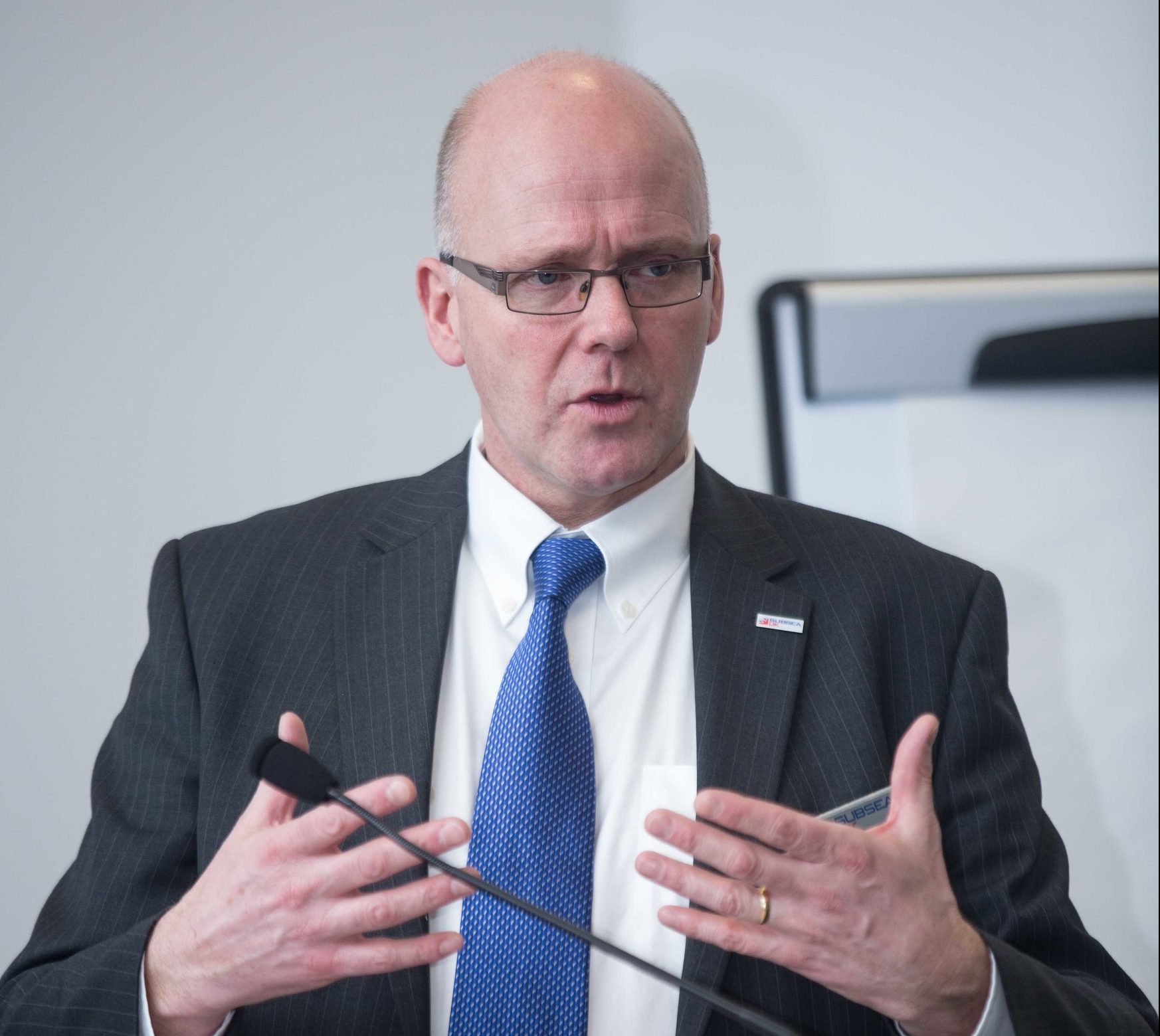 With Brent blend knocking around $70 a barrel, the sector is becoming cautiously optimistic about the North Sea's future.
But most agree the recovery will be long, slow and painful. It's about "facing the future" with a positive mind-set; indeed that is Subsea UK's core message.
"This is not so much about dwelling in the past but looking to future opportunities," said Subsea UK chief executive Neil Gordon.
"Facing that future is about understanding where the opportunities are and what we have to do to grasp them.
"The industry has gone through torrid times these past few years because of the most recent downturn."
But will those who drive the North Sea learn from the 2014-through-2016 nosedive and not repeat the same old mistakes of the past? Crucially, that means failing to credibly innovate at pace. The decade-long bull-run to 2014 proved this.
"It wasn't innovating," said Mr Gordon. "There were no real commercial drivers to look at doing things smarter or at lower cost. It was simply a case of get the stuff out of the ground.
"Oil price drops focus minds. And as we look to the future with recovering optimism we absolutely have to conduct our business in a different way.
"We've got to get back to the way we were at the start of the offshore industry – genuinely innovating."
But surely some technologies did come forward during the bull-run, like development of super-pipelayers and autonomous underwater vehicles (AUVs) coming of age, for example. And what about the evolution of training simulators towards mission planning prior to final execution? This is still a relatively new way of doing the business.
"Yes, but a lot of those things, like mega-pipelay spreads, have been incremental and not transformational," said Mr Gordon.
"But it is transformational steps and technologies that will define the future as the industry tries to move ahead."
Ye-e-es, but companies like BMW, Volkswagen and Porsche demonstrate how successful the incremental approach can be. Consider the Porsche 911 especially – more than 50 years of age and still instantly recognisable.
In contrast, over the course of human history there are lots of examples of transformational innovations. The invention of the wheel. The printing press. The worldwide web.
Bizarrely, in the context of oil and gas, it has frequently been said that if a technology is judged radical it will likely be ignored.
Mr Gordon said: "OK, but the thing with BMW is that they've always had fine machines and started out from a good (design) place.
"But I don't think the offshore industry has been in a good place for some time because we haven't taken the incremental side of the business to perfection to really bring costs down. Bits here and bits there, that's all.
"There's a danger of this approach being resumed.
"But carrying on as we did before is not going to lead to a long-term, sustainable offshore oil and gas industry.
"However, what is at last changing is the relationship between operator/developers and the supply chain and how they work together.
"The future surely has to be about getting the job done thoroughly with a common set of objectives. We cannot revert to operators once again saying they want stuff done as cheaply as possible, with vendors in the supply chain simply trying to make as much money as possible out of the operators while the going is good.
"Fortunately, the mind-set of many companies appears to be changing towards maximising the value from existing oil and gas assets and more thoughtfully developing new ones."
Subsea's a huge component of the offshore industry and is becoming even more important than ever. But does Gordon detect a genuine shift in culture?
After all, he has lived through more than quarter of a century of the "we must do better and become more efficient and really care about our people" stuff and yet it seems that lessons get forgotten very quickly.
And the same questions are being asked and the same pledges made today.
Mr Gordon said: "There are more pressures on the hydrocarbons industry. Energy is changing; look at the march of renewables and the drive to cut carbon emissions.
"It's not just about being competitive within itself; the oil and gas industry has got to compete for its place in the evolving future energies mix. There also needs to be greater integration of offshore energy – oil and gas with renewables."
However, the oil and gas supply chain, where relevant, has been warned year-in, year-out for more than a decade that if it doesn't grasp opportunities in offshore wind especially, others will step in from left of field and grab the business, and then perhaps compete for oil and gas-related work too.
But Mr Gordon insists more subsea companies have lately been doing quite well in that space. Indeed some have been involved in offshore wind for a while, some better than others.
He says that there are people out there who think subsea's only about oil and gas, but it's much wider than that.
It happens that the oil and gas experience is very transferrable – offshore wind, wave and tidal, minerals extraction, defence. All offer opportunities but we have to understand where they are and how to access them.
And then there is the question: How does industry develop the technologies needed to help develop these other opportunities?
For many it's been a case of sticking with oil and gas. When times are good, there isn't much incentive or spare resources to diversify.
In short, most people in oil and gas have, in the past, been very busy being very busy. Sorry, can't look to the left, can't look to the right, we're too busy.
For all that, there are diversification success stories in subsea.
The family-owned shipping group Bibby, which has an oil and gas-related subsea business based out of Aberdeen, has been successful at diversifying into supporting offshore wind, investing heavily in a ground-breaking mothership to anchor that push solidly.
There remains a danger that subsea contractors reared on a diet of oil and gas business will dip into offshore renewables but withdraw when the oil and gas side heats up again.
Historically, it is said defence contractors were guilty of doing precisely this; dipping into North Sea oil only when their core defence-related business was going through a sticky patch.
Does this mean few will have really learned and, as oil and gas picks up, will they back away from other ocean industries opportunities and live with the associated risks?
Mr Gordon is positive. "I think they've learned the lesson, bearing in mind that offshore oil and gas is culturally a very different business to, for example, offshore renewables. One tends to be based on mostly tailored one-off developments; the other is highly commoditised."
In contrast to the Brits, broadly the Danes and the Dutch have made a better job of grasping both offshore oil and gas and offshore wind supply chain opportunities.
For example, in offshore vessel support, Danish company Esvagt and Dutch counterpart Vroon have both capitalised on North Sea wind to become genuine dual-industry players whereas Aberdeen's Craig Group failed to do so with its North Star fleet, which was sold off to private equity interests in November.
The worry is that some subsea companies in UK oil and gas might not make the move, though there are excellent examples at Rovop, DeepOcean and JDR of companies doing well.
Mr Gordon said: "Don't forget, there is more pressure on companies in the oil and gas sector to diversify because, overall, it seems that the subsea side of the market has shrunk.
"This is why we have the Facing the Future theme for Subsea Expo this time.
"This industry works in 'Inner Space'. It puts people and machines underwater and we make it work. There is a great deal of commonality across the various ocean resources opportunities and so companies should look across the various boundaries for other opportunities.
"That includes subsea mining, which is gaining ground and where UK companies have already made an important contribution. They're using the same scientific and engineering principles to recover minerals from the sea floor.
"When one looks at subsea companies we need to start thinking about what an offshore energy company actually is. Are we supporting oil and gas today, wind tomorrow and wave and tidal the next day?
"But to be able to do that companies have to make transitions from one to another with ease.
"I think you'll find that operators are increasingly using the term 'energy company' to describe themselves and they will increasingly require a supply chain capable of supporting that."
The writer's view is that the subsea capability here in Aberdeen remains phenomenal despite having been seriously battered by the oil price downturn. That said, how well placed is this collective of companies to take on the oil recovery now under way?
After all, there are a lot of debilitated companies in the subsea supply chain. Thousands of jobs have once again been lost.
Mr Gordon said: "When things were looking rosy during the last period of high oil prices, it became very attractive for private equity and venture capitalists to buy into the subsea supply chain. There was a lot of money invested in new vessels, ventures and assets.
"But, when the going gets tough, if you don't have a sizeable track record, committed backing and a bank balance to enable you to ride out a downturn then you're going to be very fragile.
"Quite a lot of companies have been lost (over the past three years).
"However, the 'household' names have been working at transforming themselves so that they can be fit at $50.
"They've been downsizing while striving to maintain the ability to add value for their clients because that's critical. Their engineering capabilities are central to this.
"As for how the UK, which is home to the largest chunk of the global subsea capability, approaches the future, there are two aspects to consider. There's the local, UKCS part of the business and there's the international side.
"The UKCS market is much smaller than in the past. But there are still good prizes to be had. We're witnessing a change of guard at the top. There are fewer big operators investing in the UKCS and there are more opportunities for smaller new entrants to become involved."
And that's where so much of the future lies – getting more out of existing assets. The sorting out of decommissioning liabilities should help and it is companies like Apache and Ineos that will drive this because they're better able to make a living in a mature energy province than the majors.
There's still a lot of resource out there to be had and subsea will unquestionably play a major role in this.
Mr Gordon said: "Wherever possible, new developments should be based around subsea infrastructure being operated remotely from the beach with production piped to terminals for processing and exporting to market.
"It's happening but there needs to be much more effort made. We need to play to the strengths of the subsea capability anchored here and the Oil & Gas Technology Centre has a key role to play in bringing on the systems and capabilities to enable this."
Recommended for you

SSE Renewables to combine two wind farms to create 'super project'