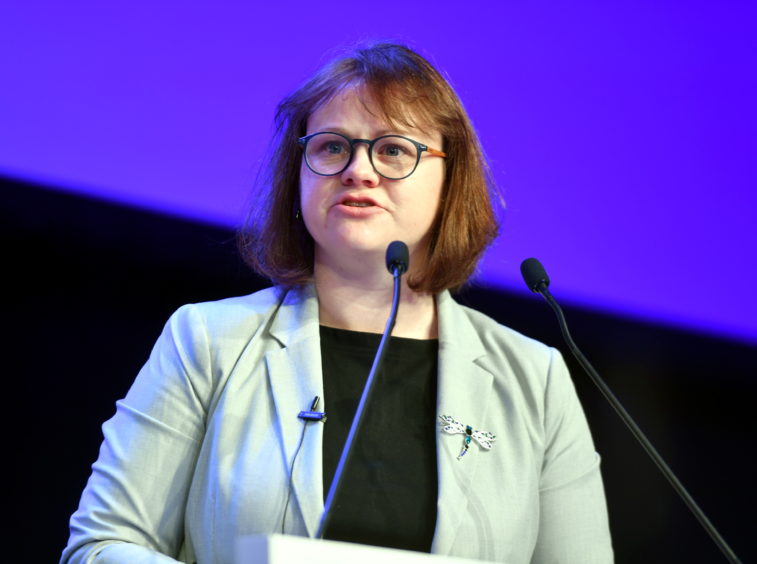 Investors who want to reduce their environmental footprints are in a "real quandary" because oil and gas still offers better returns than renewables, an analyst has said.
But offshore wind is about to launch into its "first great phase of growth", Mhairidh Evans, principal analyst at Wood Mackenzie, said on day one of Subsea Expo in Aberdeen.
Ms Evans said investment in offshore wind would double globally between 2020 and 2025 to reach £38 billion per year, with much of that spending focused on Europe.
The offshore wind sector boasts opportunities galore for the subsea supply chain and is "turning the heads of many of the industry's biggest players", she told the audience at the plenary session of the annual showcase, now in its 15th year.
At least 6,500 visitors are expected to attend the three-day event, being held at P&J Live for the first time.
This year's conference, whose theme is "New Perspectives", is exploring the opportunities presented by the energy transition and improved collaboration.
A recent report from trade body and conference organiser Subsea UK showed most of the subsea sector's revenues continued to come from oil and gas projects.
But renewables were making up a bigger chunk of the total, and that trend was expected to continue.
Offshore wind is expected provide one of the biggest final investment decisions in the UK continental shelf this year in the shape of the £9 billion Dogger Bank project between SSE and Equinor.
But Ms Evans said dumping oil and gas investments in favour of offshore wind would be unwise due to the higher returns offered by hydrocarbons.
Successful US tight oil projects can yield returns of 30%, and while North Sea oil and gas developments can't quite hit that mark, they still outstrip the different renewables categories, she said.
She said suppliers who traditionally relied on hydrocarbon projects should "stay in oil and gas", but broaden their horizons to look at downstream activities, namely refining and chemicals.
And Ms Evans did advise suppliers to "capture growth in offshore wind and new energies".
"The subsea industry has a bright future but it's going to be different," she said. "What made you successful today isn't necessarily what's going to make you successful tomorrow."
Ms Evans said the oil and gas sector found itself in a "disruptive moment" as a supply glut caused by growing US onshore production keeps crude prices in check, while the climate change debate intensifies.
The analyst said the onset of the energy transition has not yet led to meaningful changes to the way oil and gas is produced.
However, a growing acceptance of the need to achieve net-zero emissions has started to "affect the way investors feel" about the sector.
As an example, Ms Evans referenced US fund management firm BlackRock, whose bosses recently spoke about "decarbonising their investments".
This trend of showing oil and gas "less love" will reduce activity levels in an industry whose supply chain will keep shrinking, Ms Evans said.
"That's still a live situation; the shakeout is still going on," she warned.
Andrew Jamieson, chief executive of Offshore Renewable Energy Catapult, a UK technology innovation centre, acknowledged renewables did not provide the same returns as oil and gas and said there was a "big divide to cross" in terms of expectations.
Mr Jamieson also warned that the UK was "running the risk" of missing an economic opportunity to create supply chain jobs from offshore wind projects.
He said the UK's offshore wind capacity is expected to grow rapidly over the coming decades and that working with the oil and gas supply chain to realise national ambitions was a "no brainer".
In November, Prime Minister Boris Johnson committed to quadrupling capacity from 8.5 gigawatts to 40GW by 2030.
Mr Jamieson said the offshore wind sector had done well to lower development costs, but that more jobs had to be created.
Developers have often been accused of importing too much equipment, instead of making it in the UK.
He said: "The real trick now is to make sure we are maximising economic value for the UK through jobs and that means supply chain opportunities.
"It's obvious for us to turn to oil and gas and say, 'you've got a lot of the skills this industry will require, let's be more coordinated and see if we can work together."
Mr Jamieson added: "We've got to think about supply chain growth opportunities. It can't just be about importing all of our plant and installing it.
"That does not serve the economy as well as it could do."
Recommended for you

Report – global energy robotics market to be worth more than £8bn by 2050