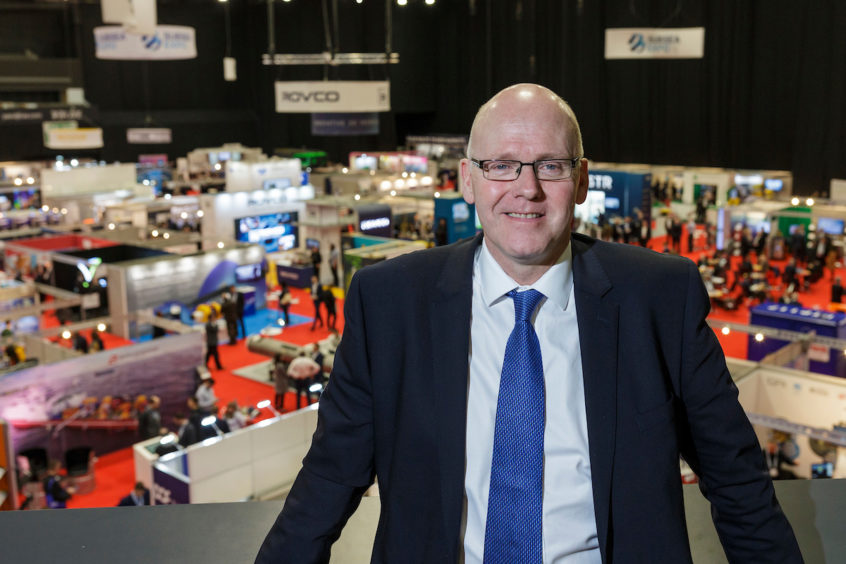 Opportunities for the UK's underwater engineering industry to capitalise on the global "blue economy" will be the focus of next year's Subsea Expo, in Aberdeen, it has been announced.
Organisers hope the three-day event, scheduled to be held at P&J Live in February, will be one of the sector's first large-scale exhibition and conferences to take place physically, rather than virtually, since the start of the Covid-19 pandemic.
Today they revealed the event's theme would be: Oceans of Opportunity – Harnessing the Blue Economy.
Run by industry body Subsea UK, Subsea Expo is approaching its 16th year and usually attracts around 200 exhibitors and almost 7,000 delegates from around the world.
Subsea UK chief executive Neil Gordon said: "The underwater engineering industry currently generates annual revenues of £7.8 billion and a large slice of that still comes from the oil and gas sector.
"However, as the industry extends its reach into offshore wind, defence, ocean and marine science and aquaculture, there is the opportunity to grow global market share of what's now known as the blue economy or ocean economy.
"Forecast to be worth around $3 trillion in the next 10 years, the blue economy is the sustainable use of ocean resources for economic growth.
"Oil and gas, offshore and marine renewables and aquaculture account for around a third of its value.
"This is good news for the subsea industry whose underwater engineering capabilities, honed in North Sea oil and gas and increasingly in demand in offshore wind, are eminently transferable to defence, ocean science, aquaculture and deep sea mining."
Despite the coronavirus pandemic, Subsea UK said more than a third of the floor space has already been booked for the exhibition, which, along with the conference, is due to open on February 23.
Mr Gordon added: "Interest in next year's event is on the increase and it's clear there is an appetite for a return to real, rather than virtual, events. Our industry's main sector – oil and gas – has taken a double blow with coronavirus and the collapse in commodity price but, with the race to achieve net-zero, a green recovery on the horizon, including hydrogen and CCUS, coupled with oceans of opportunity in the blue economy, we are sensing renewed optimism. This augurs well for 2021."
The deadline for submitting abstracts to present at Subsea Expo 2021 is October 9.
Entries for the Subsea UK Awards will also be accepted up to that date. The awards, due to be presented at a celebration dinner during the exhibition and conference, include categories for company of the year, global exports and innovation and technology.
Recommended for you

Subsea capability crucial to UK capitalising on floating offshore wind