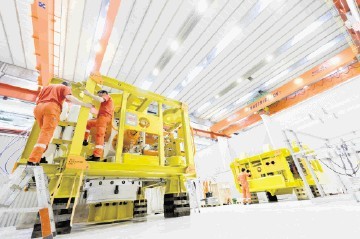 Nearly a dozen marine technology firms will each have 10 minutes to show off their latest gadgets and gizmos before a panel of subsea bigwigs in Aberdeen today.
The Spotlight on Technology showcase, whose format is reminiscent of hit BBC TV series the Dragons' Den, is being tried out for the first time at the annual Subsea Expo 2015, the largest offshore energy event in Europe.
Subsea Expo, which is being held at the Aberdeen Exhibition and Conference Centre, closes today.
The quick-fire presentations are a chance for firms to promote new equipment that can help operators locate and produce oil and gas with greater efficiency and at a lower cost, but without skimping on safety.
Finding ways to save money has been one of the key themes of Subsea Expo, which is being staged against the backdrop of the energy sector's biggest downturn this century.
The malaise is a result of years of rising costs and low oil prices brought on by chronic over-supply.
Among the hopefuls presenting today is Don Walker from PhotoSynergy, a St. Andrews-based enterprise that makes fibre illumination systems call Lightpath.
Speaking yesterday, Mr Walker said: "We're a university backed company through our partnership with St. Andrews so knowledge transfer is important to us and this is a great opportunity to share our expertise. The 10 minute slots to speak are an excellent concept as it challenges companies to be concise and clear."
"We won the innovation award last year for safety with our light path concepts so when we were invited back we decided to present our latest work on that, as it is of course technology led."
Lindsay MacDonald from marine technology company Nautronix will take centre stage for 10 minutes to demonstrate the firm's new underwater communications system.
He said: "Technology leads our work and has enabled us to create a highly efficient system for divers to communicate through, which is vital to their safety."
"We're talking about the innovative work of our NASDive diver communications systems and how important that is to the safety of divers and their day to day work. Key people who we want to reach out to attend subsea expo and this is a fantastic opportunity to speak to them about a crucial element of saturation diving."
The event is being chaired by Gordon Drummond, project director for the National Subsea Research Initiative, which was set up last year to coordinate research and development activities for the UK's oil and gas sector.
Mr Drummond said: "In the current low oil price environment, innovation and technology will be more important than ever in driving efficiencies and developing effective solutions to the challenges the industry presently faces, particularly in the North Sea."
"We have some outstanding presentations featuring exciting breakthroughs in processes that could make a real difference to the industry. The session covers a wide cross section of the industry and I expect it to appeal to many people attending Subsea Expo."
Recommended for you
X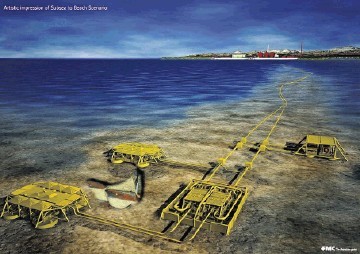 Subsea Expo 2015 video: NSRI launched to help subsea research and development