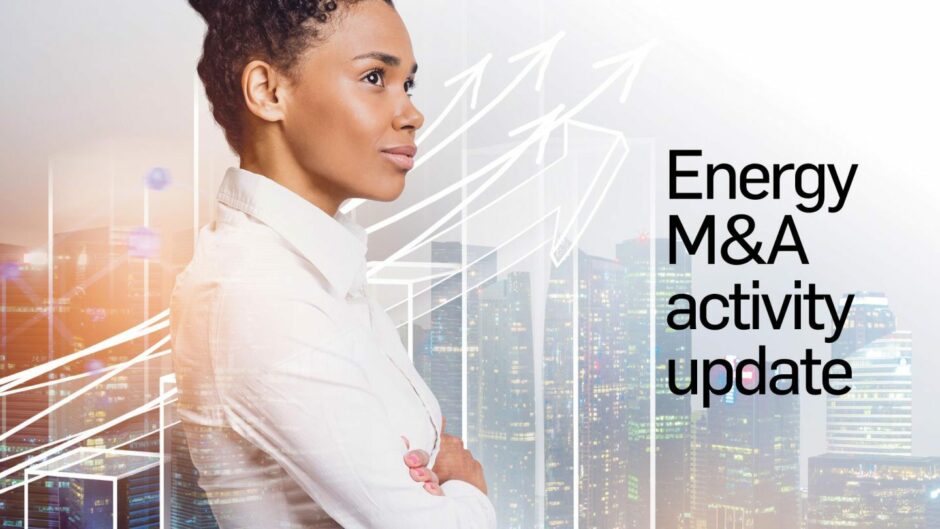 AAB Corporate Finance is delighted to share with you our Deals Update for H2 2022 in conjunction with Energy Voice, highlighting selected energy merger and acquisition (M&A) and fundraising transactions across the UK.
The changes to the UK fiscal regime with the introduction of an additional Energy Profit Levy of 25 per cent, the geopolitical landscape and inflationary pressures have created uncertainty which, together with OPEC sanctioning an increase in supply during H2 2022, saw Brent crude oil prices fall back to $80bbl which was the same as at the beginning of the year.
Despite this background, there was a healthy level of transaction activity in the last six months of the year, reflecting the completion of processes and negotiations which were ongoing during the end of the previous year and into 2022. Notable announcements included Ithaca Energy completing the acquisition of Siccar Point Energy for a consideration of c.$1.5 billion. Proactive Waldorf Energy Partners expanding their portfolio by competing the purchase of MOL's UK assets, acquiring Alpha Petroleum and reaching agreements with Dana and TAQA to buy their respective offshore Dutch assets. AIM Listed, Serica Energy rejecting the advances of Kistos Energy earlier in the year and announcing in December that is had signed terms to purchase Tailwind Energy for £367 million in a cash and shares transaction which is expected to close in March 2023.
High profile service sector transactions included Ashtead Group plc's £20 million acquisition of Hiretech, Bluewater backed and Pipeline Technique's purchase of three businesses from Stanley Black & Decker.
We anticipate a steady flow of transactions during 2023 with several processes currently ongoing. However, there is high chance of deals being structured with an emphasis on a higher proportion of the consideration contingent to performance to mitigate the changing political and fiscal landscapes.
Mergers and Acquisitions 
| SOLD | BUYER | DESCRIPTION |
| --- | --- | --- |
| Senergy Wells | Elemental Energies | Wells focussed consulting firm Elemental Energies acquired Senergy Wells from Vysus for an undisclosed sum. The acquisition came as part of Elemental's strategy to bring together well experts to provide solutions across oil and gas and low carbon sectors. |
| Tailwind Energy | Serica Energy | Serica Energy announced it will buy fellow North Sea operator Tailwind Energy in a shares and cash deal worth a total of £367million. Completion of the deal, expected in March 2023, will put Serica in the top 10 club of producers in the UK North Sea. |
| Cable Solutions Worldwide | Dron & Dickson | Aberdeenshire-based Cable Solutions was acquired by Dron & Dickson for an undisclosed sum in an effort by Dron & Dickson to enhance their range of products and services, grow in existing markets, and accelerate emergent markets, such as renewables. |
| ExxonMobil (Chad & Cameroon) | Savannah Energy | Savannah Energy acquired ExxonMobil's assets in Chad and Cameroon for a sum of $407 million. Following the deal, Savannah now has a 40 per cent stake in the Doba oil project, and an equal stake in the Chad-Cameroon pipeline system. |
| Hiretech | Ashtead Technology | Ashtead acquired Aberdeenshire-based equipment rental, service, and maintenance specialist, Hiretech. The acquisition will expand Ashtead's mechanical solutions service offering. The £20 million acquisition is Ashtead's seventh in the last five years. |
| Bryan J Rendall's Electrical | THREE60 Energy | THREE60 Energy strengthened its presence in the wind market with the acquisition of an Orkney-based maintenance and services specialist for an undisclosed sum. Bryan J Rendall's Electrical (BJRE), works across the Orkney islands and the Scottish mainland. |
| MOL | Waldorf Production | Waldorf Production acquired the entire upstream portfolio of MOL for a base cash consideration of $305 million plus an earn-out dependent on the oil prices during 2022 to 2025. The acquisition doubles Waldorf's stake in the Catcher field and secured several other different stakes and licences in the UK. |
| HOSE International | ABL Group | ABL Group acquired HOSE International for an undisclosed sum. The two companies had previously worked in tandem on rig and well control inspections. The acquisition will allow ABL to further service clients with the full scope of well control equipment assessments. |
| Corallian Energy | Shell | Corallian was acquired by Shell for £32 million. The acquisition gives Shell access to Corallian's license P2596, which contains the Victory gas development opportunity. |
| Maersk Drilling | Noble Drilling | Maersk was acquired by Noble Drilling for $3.4 billion. The acquisition was an effort from Noble to unite capabilities, leverage their differing value propositions and further their commitment to best-in-class safety and service quality. |
| Flotation Energy | Tokyo Electric Power Company | Japan based TEPCO signed a contract with Edinburgh based Flotation Energy, a UK offshore wind energy producer to purchase 100 per cent of its issued shares.  This is reported as TEPCO's first investment in overseas wind power. |
| Exagen Group | Octopus Energy Generation​​ | Octopus Energy, based in England has acquired a 24 per cent stake in Exagen Group for an undisclosed sum though its renewables portfolio to develop solar and battery facilities in the UK. |
| Tyrone Energy | Beauparc Utilities | Beauparc Utilities acquired biomass power station operator Tyrone Energy for an undisclosed amount as part of a series of recent acquisitions. The acquisition bolsters Beauparc's sustainable energy project portfolio. |
| Sval Energi | Suncor Energy Norge | Sval Energi acquired assets from Suncor Energy on the Norwegian continental shelf for $1.3 billion the acquisition came as a result of Sval looking to strengthen its position in the Norwegian area. |
| Eneus Energy | The Carlyle Group | Carlyle Group, a global investment firm, along with GIC, have acquired Eneus Energy for an undisclosed amount. The acquisition supports the development of a 14GW+ pipeline supporting ammonia production in the UK and US markets. |
| British Solar Renewables | ICG | ICG's infrastructure fund acquired British Solar Renewables, one of the largest solar developers in the UK after successfully raising €1.5 billion in investor commitments. |
| AMC Global | Forum Energy | Forum Energy acquired AMC Global, a design and manufacturer of torque equipment used for tubular connections used in the oil and gas sector for an undisclosed sum. The combination will expand Forum's drilling related offering. |
| Siccar Point Energy​ | Ithaca Energy​ | Ithaca Energy, a subsidiary of Israeli energy conglomerate Delek Group, acquired Siccar Point Energy for $1.5 billion. The move is a key milestone in establishing Ithaca as a leading UK North Sea E&P Company. |
Fundraising 
| COMPANY | FUNDERS | DESCRIPTION |
| --- | --- | --- |
| Ithaca Energy | IPO | Ithaca undertook an IPO on 14 November 2022, raising £265.5 million. The IPO came as Ithaca looks to become a key player in providing energy security in the UK and throughout Europe. |
| Trojan Energy | Scottish National Investment Bank | Stonehaven-based EV charging firm Trojan Energy secured a £9 million investment round from SNIB to fund its growth plans for their operations. |
| Penrhos Bio | Eos Advisory | Penhros Bio, a cleantech start up, has raised £1 million in seed funding from Eos Advisory. The funding will help accelerate commercialisation of its carbon capture focussed 'Remora' technology. |
| Motive Offshore Group | H2 Equity Partners | H2 Equity Partners invested in Motive Offshore Group in an undisclosed round to promote growth and facilitate the transition to renewables. |
| Orbital Marine Power | Scottish National Investment Bank | Orbital Marine Power secured £4 million of funding from SNIB to finance their floating turbine to provide clean energy with almost zero visual impact. |
| Well-Safe Solutions | MW&L Capital Partners | Specialist well decommissioning service provider Well-Safe Solutions completed its third investment round of £50 million. The funds will be used to purchase its third rig to broaden the capabilities it offers to clients globally. |
Recommended for you

Ashtead Technology acquires Ace Winches for £53m