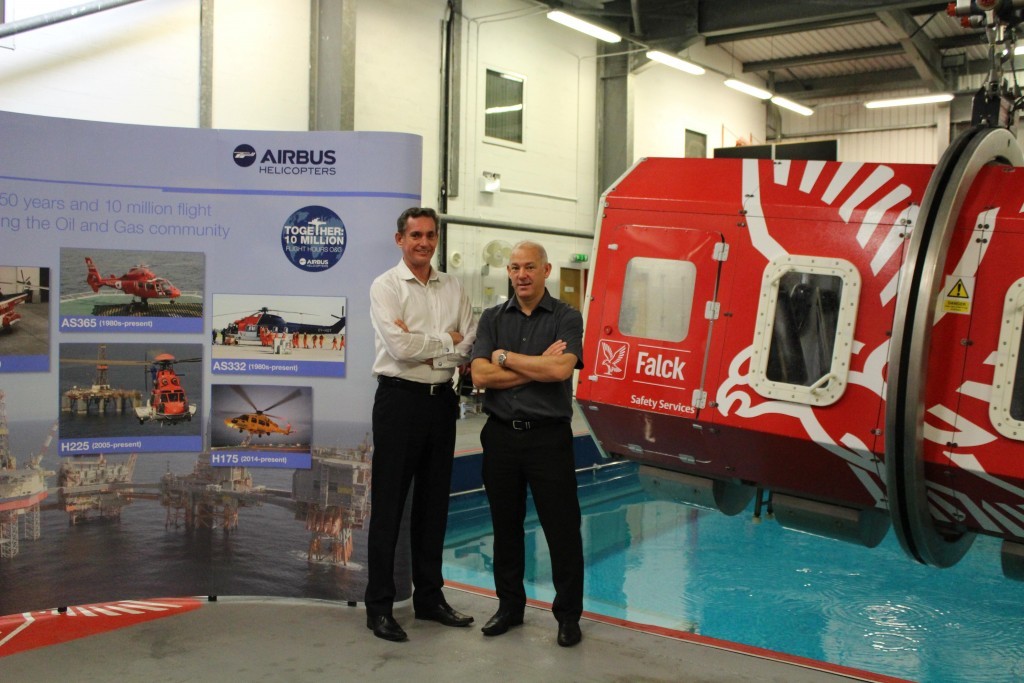 Safety training firm Falck is working together with Airbus Helicopters to help heighten safety in North Sea helicopter operations.
Airbus is using Falck's safety training pool and helicopter immersion simulator in Aberdeen to carry out underwater trials on the updated safety features within Airbus Helicopters' cabins.
The aircraft manufacturer carried out a number of trials including tests and demonstrations on newly installed grab handles, as well as other safety equipment incorporated into the cabin.
Under the scope of its safety partnership initiative, Airbus is working on a variety of safety and survivability updates to aircraft cabins.
The initiative was launched to help bring together Airbus Helicopters' efforts to implement and improve safety practices and standards in close cooperation with operators and industry.
The partnership provides a collaborative and constructive framework for all involved parties to exchange and implement safety best practices.
Andrew Dettl, North Sea fleet centre site and customer support director at Airbus Helicopters UK, said: "We are constantly looking at ways of improving safety.
"In teaming up with Falck, our aircraft will benefit from Falck's best-in-class expertise, helping to further improve levels of safety above and beyond current industry standards.
These trials involved some quite demanding escape exercises and I'd like to thank the workforce volunteers who have helped us optimise the design of the new features."
Managing director of Falck Safety Services UK, Colin Leyden, said: "Safety is imperative for today's offshore workforce and we are delighted to support the Airbus Helicopters team with this project.
"Listening to feedback from the offshore workforce is key in the decision making process, and similar to Airbus Helicopters, we share that same mantra when creating and developing new training programmes.