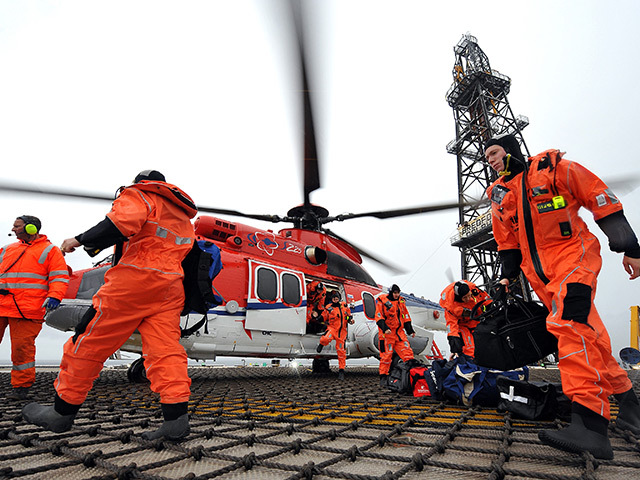 An offshore helicopter safety chief yesterday urged the industry not to compete on safety.
Francois Lassale, operations director of HeliOffshore, said it was wasteful and expensive for companies to work alone when trying to solve problems felt by the entire industry.
Delivering the keynote speech at Oil and Gas UK's aviation seminar, Mr Lassale said getting firms to work together would be cheaper and more effective.
OGUK organised yesterday's event to shine a light on the state of offshore helicopter safety following a Super Puma crash in Norway in April that resulted in 13 deaths.
Mr Lassale said was important for industry not to forget about what happened and said HeliOffshore would work with all stakeholders to make sure such incidents are not repeated.
He said the organisation, which has more about 100 members, was speeding up the implementation of enhanced terrain awareness and warning systems (HTAWS).
HTAWS provide visual and aural advisories to help keep aircraft safely separated from hazardous terrain.
Mr Lassale said the systems could save dozens of lives and should be in place by the end of 2017.
Speaking at the same event, Elaine McEwan, head of logistics at Maersk Oil North Sea UK, also made the case for a collective approach to shared problems.
Ms McEwan said: "Each company in the supply chain wants to be high performing and make money. The only way of doing that is through safe and reliable operations.
"Good safety is good business. The current cost environment gives us an opportunity to give a level of focus to what we do. We have a chance to share and work together to be safe, reliable and efficient."
She said the North Sea sector had already shown it could learn its lessons.
She said the ash cloud that came from the Eyjafjallajökull volcano in Iceland in 2010 had caused total confusion and chaos, with some operators flying to rigs while others remained grounded.
But she said the eruption of Grímsvötn the following year was met with a much better reaction as helicopter companies were aligned and better informed.
And Ms McEwan said Maersk was trying to spread the joined-up approach to operations in the Middle East.
Maersk is one of nine companies flying with the same operator in the region, but each company is audited separately and the data is held separately.
She said Maersk was developing a pilot project to align the various companies.
Maersk is bringing in a safety manager who will look for trends, which in turn will help companies pinpoint issues early and save money, Ms McEwan said.
Steve Harriss, Bristow Helicopters' head of safety for the Europe and Caspian regions, said it was important for helicopter companies to have a strong relationship with the oil and gas businesses they serve.
That should go beyond the typical customer/supplier relationship, said Mr Harriss, adding that he felt progress was being made to achieve stronger links.
For more highlights from yesterday's seminar, click the links below:
North Sea industry treading line between "catastrophe and bankruptcy", helicopter safety chief warns
North Sea helicopter industry's faith in regulator on the mend