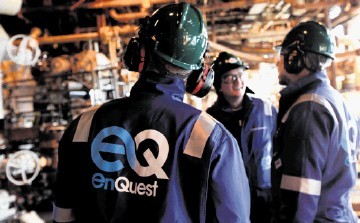 The Health and Safety Executive (HSE) has warned EnQuest following a gas leak on its Producer FPSO last year.
HSE said in an improvement notice that EnQuest had not taken adequate measures for checking the liquid seal on a valve, leading to an uncontrolled gas release on December 1.
The HSE inspector said the new valve had been installed in such a way that liquid was getting into it and diluting the seal fluid.
Workers were manually changing the sealant on a regular basis, which contributed to the leak.
The inspector said: "When workers were manually changing the sealing fluid they emptied so much fluid from the valve that the seal was lost and the gas release occurred.
"You thereby failed to construct suitable upstream pipework for the pressure vacuum (PV) breaker valve and provide a suitable gauge so that your workers could accurately ascertain the liquid level in the PV breaker."
A further release took place two days later while a manual depressurisation of the cargo tanks was being carried out.
The FPSO is stationed at the Alma/Galia development in the central North Sea, 310km south-east of Aberdeen.
An EnQuest spokesperson said: "EnQuest can confirm there was a gas release on its EnQuest Producer FPSO facility on 1 December 2016 during routine maintenance work on a relief valve associated with the crude oil storage system.
"Production was immediately shutdown.
"On 3 December, whilst work was underway to restart production, the vessel's gas detection system was activated during venting due to a change in weather conditions.
"In both instances, the platform's safety systems worked correctly.
"We are working closely with the HSE to learn from the incidents and to implement the changes required to prevent re-occurrence and are on target to comply with the terms of the notices by the required deadlines."
Recommended for you

EnQuest picks Saipem for Heather jacket removal