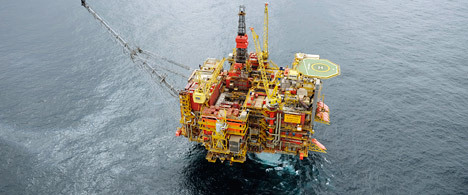 A fire broke out on a North Sea platform after crude oil pumped against a closed valve for nearly an hour – with the temperature rising from 33 degrees Celsius to 344C.
The incident happened on Statoil's Statfjord A on October 16 last year.
An investigation by Norwegian safety body the PSA has now found a number of breaches of regulations.
The fire broke out in a utility shaft during transfer of oil from the platform's storage cells to a shuttle tanker.
The PSA report said: "One of the loading pumps continued to operate because a shaft in the circuit breaker intended to shut off power to its motor suffered a fatigue fracture.
"However, displays in the control room indicated that the pump had stopped As a result, crude oil was pumped for 51 minutes against a closed valve and its temperature rose from 33°C to 344°C.
T"he high temperature combined with powerful vibration in the pump meant that crude oil eventually leaked through the pump seals and ignited. In addition, fire broke out in crude oil which had leaked into an insulation box connected to the seal oil system."
The PSA investigation concluded that the fire was contained by the amount of oil that leaked out.
The fire was detected by a flame detector on the loading pump deck and extinguished through activation of the deluge system in the room.
No people were injured during the incident.
The PSA probe concluded that the fire would not have escalated even with a "long-lasting leak", given that the fire extinguisher system worked.
Investigators said the incident did not have a "major accident potential".
Three nonconformities were identified, related to investigations and improvement measures after earlier incidents, maintenance of shutdown valves and blocking of safety systems.
Four improvement points relate to alarm texts, conflict of roles in the emergency response organisation, expertise and training, and general alarm and establishing of the emergency response organisation.
The PSA has asked operator company Statoil to explain how the nonconformities will be dealt with, and for an assessment of the identified improvement points.
Statoil has been contacted for comment.
Recommended for you

Equinor told to up its game after 'major gas leak' averted on North Sea platform