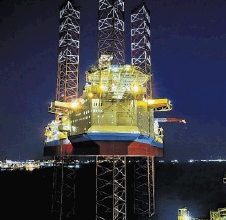 Norway's offshore safety watchdog has ordered Maersk Drilling to sort out safety procedures on a rig which is on contract Total E&P.
The Petroleum Safety Authority (PSA) said it had uncovered problems with the Maersk Intrepid's emergency preparedness management during an inspection.
PSA specifically highlighted shortcomings related to "the training of the emergency preparedness organisation offshore, maintenance of doors and emergency preparedness equipment, the design and follow-up of fire stations, the securing of loose equipment, emergency lighting, emergency preparedness assessments and chemical exposure".
Issues with ignition source controls, the helideck and exits from lift shafts were also flagged.
PSA has given Maersk Drilling until September 1 to explain how it will address the issues.
Jakob Korsgaard, managing director, Maersk Drilling Norway, said: "We will never compromise the safety of our people or the environment.
"The findings, identified by the Petroleum Safety Authority of Norway during one of the regular audits on board Maersk Intrepid earlier this year, have been noted and Maersk Drilling Norway is in the process of addressing the findings and recommendations from the audit.
"It's our priority to ensure that Maersk Intrepid meets all requirements set out by the Petroleum Safety Authority.
"Maersk Drilling maintain an active dialogue with relevant authorities and customers to ensure a safe offshore environment, which supports our ambition of realising incident free operations worldwide."
Recommended for you

Worker suffers 'serious' injuries after gas release on North Sea drilling rig