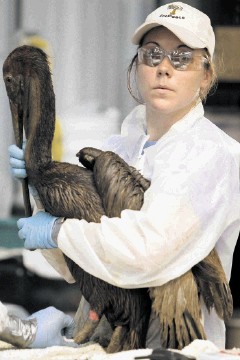 Oil major BP has accused Halliburton of destroying damaging evidence about the quality of cement used at the Macondo well which exploded in the Gulf of Mexico last year.
In a New Orleans federal court, BP accused the US contractor of having intentionally destroyed evidence about possible problems with its cement slurry poured into the well drilled by the Deepwater Horizon rig. An oil well must be cemented properly to avoid blowouts.
The rig exploded in April last year, killing 11 men and spilling nearly 5million barrels of oil into the sea.
According to the court documents, BP has also accused Halliburton of failing to produce incriminating computer-modelling evidence. Halliburton said the modelling was gone.
BP asked a judge to penalise Halliburton and order a court-sponsored computer forensic team to recover the missing modelling results.
A Halliburton spokes-woman said the Houston-based company was reviewing BP's filing.
She added: "We believe that the conclusion that BP is asking the court to draw is without merit and we look forward to contesting their motion in court."
The claims in the 310-page motion ratcheted up the showdown among BP and contractors Halliburton and Transocean. So far, BP, the majority owner of the well, has footed much of the bill for the emergency response and clean-up.
Also involved is contractor Cameron International.
Government and independent investigations of the disaster have found fault in Halliburton's cement job because it failed to plug the well properly. The firm had used a foamy cement slurry.
In this week's court filing, BP accused Halliburton employees who carried out an internal investigation into the disaster of discarding and destroying early test results they performed on the same batch of cement slurry used in the Macondo well "as well as the physical cement samples used in the testing".
Engineering service firm Wood Group said yesterday it had been awarded two contracts by the Marine Well Containment Company (MWCC) to improve the independent organisation's ability to deal with a deepwater blowout in the Gulf of Mexico. Wood Group said its PSN and Mustang subsidiaries would provide technical support for MWCC's containment system designed to be used in the gulf.