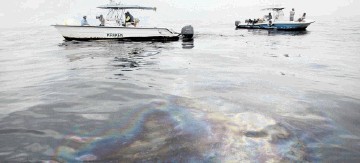 OIL giant BP is set to take another battering after a US judge ruled thousands of fishermen and business owners hit by the Gulf of Mexico oil spill disaster could sue for punitive damages, it was reported yesterday.
Judge Carl Barbier, who is considering some 500 cases against BP and its main co-defendants Transocean, has said the plaintiffs are allowed to make their cases under maritime law for punitive damages – penalties designed to deter bad conduct.
BP and the other companies had argued that a different law prevented complainants pursuing them in this way.
More than 100,000 individuals, companies and authorities have filed cases claiming they suffered economic loss as a result of the leak last year.
The Deepwater Horizon explosion on April 20 last year killed 11 workers and triggered the biggest offshore oil spill in history.
However, for punitive damages to be successfully claimed, extreme negligence would have to be proven, which is strongly denied by BP and the other defendants.
Under the same ruling, Judge Barbier dismissed all claims brought under state law, saying they must be covered by maritime law.
In another blow to the oil supermajor, hundreds of boat owners from the 3,000 hired by BP last year under a flagship scheme to clean up the Gulf Coast are understood to be preparing to enter mediation over claims alleging they were left out of pocket.
Most claims from Gulf Coast residents are being dealt with through the $20billion (£12.3bn) compensation fund set up following heated discussions in 2010 with President Barack Obama and his administration.
BP has taken a $40billion (£24billion) charge to cover the cost of the disaster, including the clean-up costs, fines and compensation.
The company's share price plummeted from around 650p to just under 300p in the wake of the disaster but the price has since recovered to around 386p.
However, the recovery stumbled following BP's botched £10billion deal with Russian-government owned oil firm Rosneft.
The well stopped leaking in mid-July but was not officially and permanently sealed until September 19.