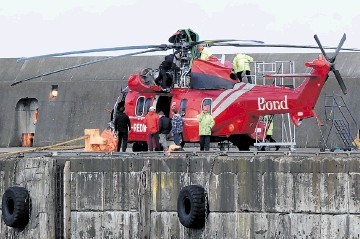 An offshore worker last night relived the moment a hero helicopter crew saved his life.
James Foreman said he and 11 colleagues only survived a North Sea ditching because of the skill of the pilots of a Bond Super Puma.
The EC225 aircraft came down 25 miles east of Aberdeen after an oil pressure warning light activated.
Mr Foreman, a 46-year-old father-of-two, was recovering at home yesterday after Thursday's drama.
He had been travelling to the Ensco 102 rig, where he works as a barge engineer. Some of the workers in the helicopter were also being taken to the Maersk Resilient rig.
Mr Foreman described the ditching as "straight out of a training manual".
He said the incident happened around half an hour into what would normally be a 75-minute flight, and the passengers received the alert to brace themselves from the crew.
He said: "Everyone on board's training kicked into place. It is what you are trained for when you go through your brief and are told to brace.
"It was textbook. I don't want to say too much about exactly what happened, but from what I've seen on the news, the pilots that carried out the ditching aren't getting enough credit.
"Twelve guys walked off that helicopter alive and that's what counts, everyone involved did their job.
"The rescue people were excellent, they were there quickly."
The mayday call sparked a response involving coastguard and RAF helicopters and two lifeboats.
Mr Foreman was one of the first to be taken to Aberdeen Royal Infirmary, where he was checked over by medics and allowed to return to his home at Montrose.
He said that at the hospital he had been able to make contact with worried family members, including his son Daryl and mother Anne, to let them know that he was safe and well.
"You never expect it to be your one to ditch, but you do what you are trained for," he said.
"My pulse was a bit high and I didn't sleep very well last night."
Although he is now signed off work, he has not ruled out a return offshore.
Mr Foreman said: "Yesterday you wouldn't have got me back in a chopper for love nor money, but then you begin to think about the car and the house and things like that."