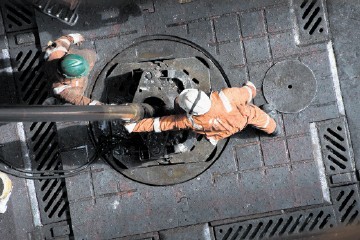 The number of hydrocarbon releases and non-compliance issues increased in the UK offshore oil industry last year, according to new statistics from the country's workplace safety watchdog.
A total of 126 hydrocarbon releases were recorded in 2019, up from around 100 the previous year, the Health and Safety Executive (HSE) said in its annual Offshore Statistics & Regulatory Activity Report.
Three "major" releases and 28 "significant" releases were recorded last year. In 2018, there were six major releases and 20 significant ones.
Ten of last year's releases are still awaiting classification, so the tallies for the two most serious categories could increase.
Some 1,382 non-compliance issues were raised with operators last year, up nearly 10% from 1,254 in 2018.
The category which generated the largest number of issues was maintenance, with 220, followed by operating procedures, on 200.
The report said there were 218 dangerous occurrences last year, down slightly from 223 in 2018.
Twenty-two enforcement notices were dished out in 2019, including 19 improvement notices and three prohibition notices.
In 2018, 32 reprimands were handed down by HSE, including 30 improvement notices and two prohibition notices.
Prohibition notices are more serious than improvement notices as they require work to stop immediately when a safety risk has been identified.
In 2019, HSE undertook 174 inspections at 146 offshore installations, which was the highest number of inspections since 2012.
Ninety-three investigations were completed, the most undertaken in one year since 2013.
Thirty-nine health and safety concerns were followed up, higher than in the previous two years, while 84 safety case submissions were assessed, lower than in the previous three years.
There were no fatal injuries in 2019, whereas there have been six fatalities in the last 10 years.
The number of injuries reported fell to 98 last year from 106 in to 2018.
Trevor Stapleton, Oil and Gas UK's health and safety director, said: "Industry takes any hydrocarbon release seriously and is focused on delivering our robust release prevention plan as part of our strategic objectives.
"We're working with stakeholders including HSE on the delivery of actions focused on process safety leadership, audit and self-verification and learning, from endorsing principles in process safety leadership to identifying key focus areas which drive down hydrocarbon releases."
Recommended for you

NSTA: £4bn of North Sea developments approved in 2023