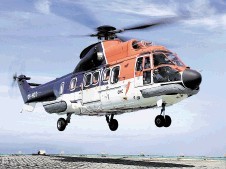 A Super Puma helicopter that was brought back to Aberdeen by boat after an incident offshore last month is back in service.
The AS332L2 aircraft, operated by CHC Scotia, was grounded and returned ashore on a rig-support vessel on May 23 after it was discovered to have been filled with contaminated aviation fuel.
The helicopter had been refuelled on board the Total-operated Rowan GorillaV installation when contaminants were found in the rig's fuel tanks.
A mandatory occurrence report submitted to the Civil Aviation Authority (CAA) after the incident states: "After refuelling had taken place the installation's fuel tanks were inspected and found to be contaminated with particles.
"Samples taken from the aircraft's tanks also showed contamination. Base engineer checks found that the installation's system filters were contaminated. The fuel supplier has been contacted."
The incident took place on May 18, just over a week after an EC225 Super Puma, operated by Bond Offshore Helicopters, had to make a controlled landing in the North Sea after a oil pressure warning was triggered.
A CHC spokeswoman said: "We can confirm that the aircraft concerned is now back in service after maintenance checks.
"Safety is CHC's first priority and we continue to work diligently with helicopter manufacturers, other operators and aviation regulators to ensure the highest possible safety standards for our fleets."