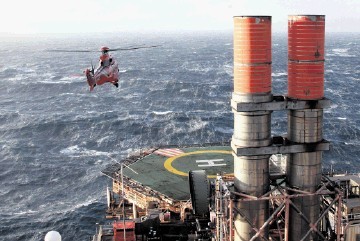 The UK Government will today ask other EU states to back its stance against a bid by Brussels to seize control of offshore safety rules.
Energy Minister Charles Hendry will outline the widespread opposition in Britain to the proposed shake-up at a meeting with his counterparts in Luxembourg.
EU Energy Commissioner Gunther Oettinger said last year that a new safety regime was needed because the likelihood of a major offshore accident remained "unacceptably high".
Trade unions, industry leaders and the Holyrood and Westminster governments all oppose the proposed regulation.
They say world-leading standards already operate in the North Sea and the changes would mean spending huge amounts of time and money reworking safety cases to comply with the rules, with no benefit.
Talks on the plans are to be held at today's Energy Council meeting, where the UK and other states are expected to make their positions clear on the issue.
Sir Robert Smith, MP for West Aberdeenshire and Kincardine, has led calls for Brussels to rethink the proposals and table a directive instead of a regulation.
He said: "Both the oil and gas industry and the trade unions are united in their belief that changes need to be made to these proposals. They should be listened to. Friday is a welcome opportunity to ensure that these views are communicated to other member states."
The UK Government wants the European Commission to scrap plans for a far-reaching regulation and instead prepare a more flexible draft directive.
Robert Paterson, health and safety director for industry body Oil and Gas UK, said: "We welcome the confirmation that the energy minister will be pushing for an EU directive rather than regulation on offshore safety.
"The improvement of other safety regimes to bring them up to north-west European standards would be best handled by a properly worded EU directive.
"This would prevent the upheaval and dismantling of the existing world-class safety regime, and prevent the threat of an erosion to safety which a proposed regulation would bring about."