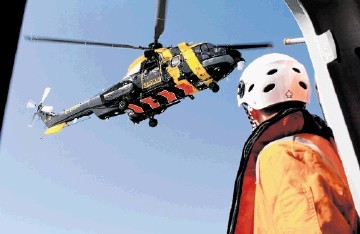 A search-and-rescue service launched by oil giant BP six years ago has completed its 300th emergency mission in the North Sea, the firm said yesterday.
The scheme, which provides emergency services for offshore oil and gas installations, is thought to have saved more than 10 lives since it launched in 2006, including people not involved in the industry.
Labelled Project Jigsaw – and costing about £25million a year – the Aberdeen-based service relies on two Super Puma helicopters, operated by Bond out of Sumburgh on Shetland and BP's Miller platform, plus four regional support vessels.
Together they cover 12 offshore locations, including platforms, rigs and vessels, in addition to Miller, mostly in the UK North Sea, including west of Shetland, but also off Norway, with firms including Wood Group, Statoil, Marathon and Talisman partners in the project.
"The 300th rescue is a significant milestone and a reflection of the valuable service we provide as part of the offshore, search, rescue and recovery scheme," said Clive James, offshore installation manager on the Miller platform.
"I would like to pay tribute to the ongoing professionalism, effort and commitment from the teams involved."
The 300th mission was reached when a member of staff facing a medical emergency was evacuated off an installation in the Norwegian North Sea and taken to Stavanger.
BP spokesman Matt Taylor said the majority of the 300 missions were medical evacuations from platforms, rigs and offshore-support vessels, but that they did also help others out too.
John Maxwell, managing director of Farstad Shipping, said: "Earlier this year one of our crew members was taken seriously ill while working offshore and a Jigsaw search-and-rescue helicopter came to rescue him.
"It was the quick access to medical expertise that eventually helped him recover. I'd like to thank the Bond helicopter pilots for their highly skilled and professional assistance."
Just recently, a Russian trawlerman was helped out by the service.
The helicopter based on Miller was the first on scene when a Bond Super Puma, with two crew and 12 passengers, ditched in the North Sea on May 10.
It rescued six people with the rest picked up by an RNLI lifeboat, with some of those then lifted to the Sea King SAR helicopter from RAF Boulmer.