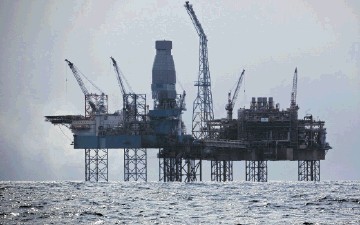 Improvements in safety and a fall in oil and gas leaks in the North Sea offshore industry have been highlighted in a new annual publication.
Oil and Gas UK's first health and safety report outlines "a number of recent major improvements" in offshore safety, with falling numbers of major incidents and hydrocarbon releases.
One union leader pointed out, however, that there had been significant incidents recently. This year has seen a major gas leak on Total's Elgin platform, a helicopter ditching and a leak from a pipeline on BP's Foinaven field.
Last year there were two fatalities in the sector after four years with none and a significant oil leak from Shell's Gannet Alpha platform.
The report, which also outlines work being done to improve health and safety, says that in non-fatal accidents the sector is the third best performer in the UK, with a better safety record than the public sector, retail and general manufacturing with only finance/business and education performing better.
It also said there had been a noticeable and steady reduction in over-three-day injuries in the industry.
OGUK health and safety director Robert Paterson said: "The report also highlights the hugely encouraging progress in the industry's efforts to reduce the number of hydrocarbon releases by 50% by March 2013. The number of major and significant releases is now at a record low and, with more sustained effort, we believe we can reach our goal.
"The report serves to underline the fact that the UK has one of the most robust offshore health and safety regimes in the world.
"The reason it is strong is because we're not complacent and we're always looking for ways to improve or to make things safer."
Jake Molloy, regional organiser for the RMT union, said: "We have seen a reduction in hydrocarbon releases and a reduction in the number of major incidents, however, I don't hold a great deal in statistics.
"We had two fatalities, one which may be due to natural causes, after four years of none, and a hydrocarbon release (Elgin) which emitted more gas than all of the rest together.
"We have to remain vigilant; we can't take our eyes off the ball. There have been positives, but it's been a year of significant incidents we can learn from."
He said the two main concerns of the workforce were working hours for workers on mobile drilling units, and asset integrity for those working on ageing platforms, some of which were "rusting heaps literally falling apart around workers".
Mr Paterson added: "Safety is never 'done' and there is no room for complacency; industry leaders at all levels must remain vigilant if current improvement trends are to continue."
Recommended for you

Equinor told to up its game after 'major gas leak' averted on North Sea platform