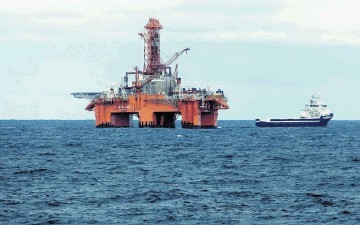 Nineteen people were rescued from the North Sea after a helicopter carrying oil workers was forced to ditch in thick fog.
A major operation was launched yesterday after the Super Puma EC225 made a "controlled landing" 14 miles west of Fair Isle, between Orkney and Shetland.
The CHC-operated aircraft – carrying 17 workers and two crew – had been flying from Aberdeen to the West Phoenix drilling rig when it got into trouble at 3.30pm.
It was the fourth accident involving a Super Puma in just over three years – and the second time in six months that one of the aircraft had been forced to ditch.
Last night, CHC said it was grounding the fleet until the cause of yesterday's incident was established.
Three RNLI lifeboats were launched from Kirkwall in Orkney and Aith and Lerwick in Shetland after the helicopter came down.
When they arrived, all 19 had been taken off their liferaft by a fast rescue craft launched from the Nord Nightingale vessel which was close to the scene.
Twelve of the men were airlifted to Kirkwall on Orkney by the RAF's Rescue 137 helicopter. The other seven were taken to Sumburgh on Shetland by a Bond rescue helicopter.
Six of them – Michael Mashford, Jorn Gudbrandsgavzy, Adrian Smith, Howard Bourke, Rares Spalnacan and Ingmund Ytroy – were recovering at the Sumburgh Hotel last night.
Mr Mashford's wife, Anne, of Beverly in Yorkshire, said the landing had been "controlled", according to her husband.
"He called to say he was safe – it is all a bit of a shock," she said. "He said the landing was very controlled and that their safety training kicked in."
No one was injured in the incident.
Nick Mair, regional vice-president of CHC, said: "Our primary objective is always the safety of our passengers and people, and our pilots' actions today are consistent with that. The most important fact is that our customers and people are safe. We have spoken with the crew and we understand that no one is injured.
"An investigation team from the Air Accident Investigation Branch is on its way north and will carry out a full inquiry into the cause of the incident.
"Plans are also under way for the recovery of the aircraft. We are temporarily holding flights using the same type of EC225 aircraft pending receipt or confirmation of certain information from the crew involved in today's incident and technical follow-up." Last night, Neville Davis, of Shetland Coastguard, praised the crew of the Nord Nightingale for responding in a "magnificent manner".
"The Nord Nightingale, a tanker en route for Belfast, was the closest asset on scene. They launched their fast rescue craft and were able to recover all the passengers and crew from the liferaft. It seems to have been a controlled ditching. There are no reports of injuries, all 19 have been recovered, and the helicopter is, as far as we understand, still afloat.
"The weather is quite benign for this time of year with reasonably calm seas and light winds. The problem we had was quite thick fog. The cloud base was down to about 250 feet."
Last night a spokesman for Eurocopter said he did not know if the rest of the fleet would be grounded today. "We are eager to find out what has happened," he said.
He added that a team from Marseille would fly to Aberdeen today to begin their own investigation.