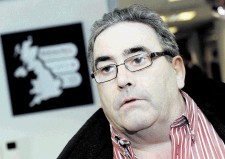 Offshore workers are "frustrated" at a lack of information on what caused a Super Puma helicopter to ditch in the North Sea, union officials said yesterday.
Representatives of Unite and RMT said that many questions remained unanswered after a meeting of the Helicopter Safety Steering Group (HSSG) in Aberdeen.
Operator CHC, with other offshore helicopter companies Bond and Bristow, suspended use of the Super Puma EC225 model following Monday's emergency landing 14 miles from Fair Isle.
All 19 people aboard the aircraft were rescued unharmed and the copter is now undergoing an examination by the Air Accident Investigation Branch (AAIB).
Jake Molloy, regional organiser for the RMT, said news that a gearbox problem may have forced pilots to ditch the helicopter was a cause for concern.
Monday's incident, the fourth involving a Super Puma in three years, has put the aircraft manufacturer Eurocopter under increasing pressure.
Mr Molloy said: "We are getting calls about people being stuck at both ends. You have frustrated people onshore, some of whom won't get any pay, and the frustrated people offshore, who want home to their loved ones.
"There is clearly a great deal of frustration but that has to be tempered with the fact that we are erring on the side of caution.
"I would only hope that the findings of the AAIB allow a resumption of flights sooner, rather than later, to ease the grief of the travelling workforce."
John Taylor, industrial officer for Unite, said he was "constantly" receiving calls from concerned workers.
He added: "We were hoping that we would get more information today, but, hopefully, within the next few days we will get more, then we can start taking decisions on whether these aircraft should be allowed to fly.
"We have asked at the present moment that the industry stick together and not fly until we are assured that we are safe.
"There are a lot of questions that couldn't be answered." He went on: "There was also an agenda about whether we have got a plan B — how long would it have taken to rescue these people if the tanker hadn't been there."