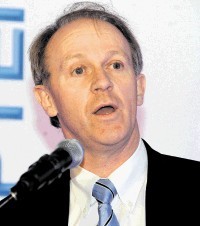 Eurocopter bosses said last night they share the concerns of the industry over the latest ditching incident, but insisted their aircraft are safe.
Executive vice-president Derek Sharples said the French firm was fully committed to identifying the "root cause" of the gearbox failure after attending a meeting of the Helicopter Safety Steering Group. The meeting followed the publication of an initial report by the Air Accident Investigation Branch, which identified a 360-degree crack on the bevel gear vertical shaft of the CHC Super Puma EC-225 helicopter.
Eurocopter said the findings were "comparable" to a failure that forced the emergency landing of a Bond-operated Super Puma in May this year. All 14 passengers and crew involved in that incident, about 30 miles east of Aberdeen, were rescued.
Mr Sharples said: "We share the concerns of the industry and our top priority is safety and the safe carriage of crew and passengers. We had a very positive meeting today, we will work very closely with all members of the industry to get Eurocopter aircraft back as soon as possible."
The company earlier issued a new directive that requires the gearboxes to be monitored more closely and more often in an attempt to eliminate the risk of further incidents.
A statement from the company said the new measures are based on the fact that problems with the vertical shaft component can be predicted in advance.
Gearbox monitoring intervals for the EC225 and EC725 models will be increased from every four hours to each three hours of flying time. The statement added: "Eurocopter is devoting all of its efforts to fully understanding the root cause of this failure, together with the authorities in charge of the investigation and will continue to work closely with the operators."