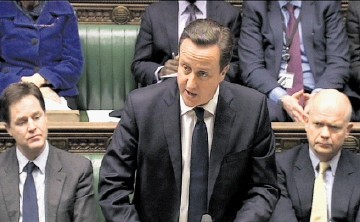 David Cameron has pledged to do what he can to protect Scots oil workers abroad – but warned BP and other firms to "redouble" their security efforts after the Algeria attack.
The prime minister reminded companies, which employ thousands of people in the north and north-east, that the safety of their employees was always their "primary responsibility".
The Conservative leader acknowledged there was "huge concern" north of the border after two workers with Scottish connections were among 37 hostages killed at the In Amenas plant and a further eight escaped.
In a statement to MPs in Westminster yesterday, Mr Cameron said the assault by an al Qaida-linked group in the Sahara desert was part of a "generational struggle" against Islamic extremism. He also revealed "tens not hundreds" of UK troops may be sent to help train forces in neighbouring Mali.
The In Amenas complex was operated by BP, Norwegian firm Statoil and Algerian state oil company Sonatrach.
Mr Cameron said: "Obviously there is huge concern in Scotland. Scots over centuries have been fantastic at working overseas, earning money overseas, travelling the world – and we need to make sure we protect their interests."
Asked about working with foreign governments to assess risks and help protect workers, he added: "I think it's right, the government should do that, but of course companies like BP that have huge resources and indeed almost their own diplomatic networks.
"It's their primary responsibility to make sure their people are safe, to work with the governments.
"I commend BP for the work they do on this but they need to redouble all of their efforts."
Angus Robertson, Moray MP and SNP defence spokesman, asked the prime minister if a proposed EU mission to Mali of 250 trainers and 200 close protection personnel was sufficient.
Mr Cameron responded that the total size of the mission would be about 500 personnel and if there was a British contribution to it, then "it would be tens, not in the hundreds".
Earlier, he warned: "Together with our partners in the region, we are in the midst of a generational struggle against an ideology which is a distortion of the Islamic faith, and which holds that mass murder and terror are not only acceptable but necessary."