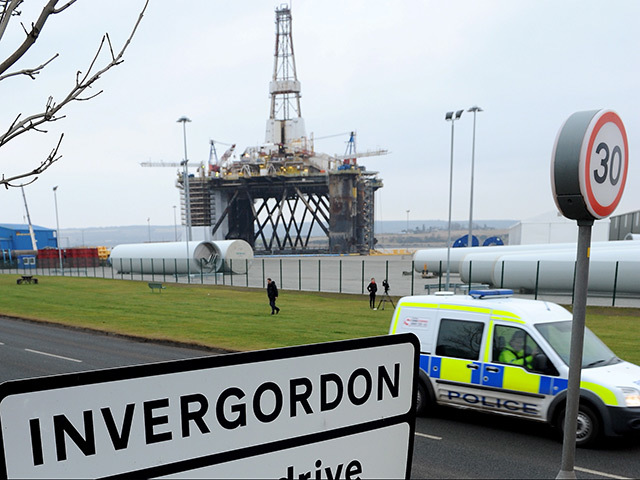 The man who died in a fall on a rig in the Cromarty Firth has been named as a 60-year-old from the Glasgow area.
Morris Haddock was working on the Transocean Sedco 712 rig at the Easter Ross port of Invergordon on Wednesday when the accident occurred.
As a police and health and safety investigation continued, work restarted on the installation in the late morning yesterday.
Mr Haddock, who was employed by Transocean, was working on the semi-submersible drilling unit tied alongside when the incident happened at 6.50am.
A spokeswoman for Transocean said: "We suspended work on the rig on Wednesday as a mark of respect.
"A meeting was held on Thursday morning and some work commenced late morning.
"This will gradually build up over the next few days."
She added that the company had been in touch with his family and was providing help and support.
The company spokes-woman confirmed that the work was being carried out 24 hours a day, with employees staying in local accommodation, rather than on the rig.
The rig is alongside the Queens Dock undergoing a seven-month refit.
Police would not say how far Mr Haddock had fallen, but confirmed that he had not landed in the water.
A Northern Constabulary spokesman yesterday said they were not identifying the man involved in the rig incident at the request of his family, but he was named locally as Mr Haddock.
The police spokesman added that the man's family did not want to speak about his death and had asked to be left alone.
He refused to give any further information about how he died as he said this formed part of the joint police and Health and Safety Executive (HSE) investigation. A report on the incident is to be submitted to the procurator fiscal, and it is likely a fatal accident inquiry will be held.
An HSE spokeswoman said yesterday that preliminary inquiries, alongside Northern Constabulary, were continuing.
She could not say how long they would take to complete these investigations.