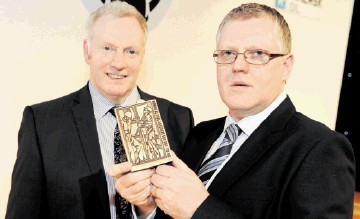 Oil and gas workers were celebrating yesterday at a ceremony in Aberdeen recognising leaders in health-and-safety practice.
More than 500 people attended the fourth annual UK Oil and Gas Industry Safety Awards, which highlight the work of energy companies and their employees in aiming to make offshore operations safer.
The ceremony at Aberdeen Exhibition and Conference Centre was organised by industry body Oil and Gas UK, whose health-and-safety director Robert Paterson said: "The UK Oil and Gas Industry Safety Awards have once again brought to the fore an inspirational group of people and organisations.
"The winners, and indeed everyone nominated, are actively doing great work to keep the safety of our people at the forefront of our industry."
The keynote speech was given by Grahame Smith, general secretary of the Scottish Trades Union Council. Mr Smith said: "This is a massively successful industry and this event allows us to shine a spotlight on health and safety and better practice."
But he repeated concerns voiced last month by the RMT union about the planned restructuring of the Health and Safety Executive (HSE).
Mr Smith said the HSE was moving ahead with plans to merge its offshore division with other teams to create a larger energy division without consultation with the industry or unions. In light of increased technical complexity offshore and budget cuts, he added: "There is a compelling case to maintain a designated offshore regulator as foreseen by Lord Cullen's report (into Piper Alpha)."
A new award category was introduced at this year's presentation to recognise the company that had engaged successfully with its workforce on improving safety.
It was won by Shell's decommissioning team at the Brent Delta platform and was collected by the project manager Derek Allan.
Winners
Safety leadership: Kent Lanier, rig manager, Rowan Drilling UK.
Ideas in safety: Petrofac's control of work team.
Most promising individual: Marc Brankin, scaffold chargehand on the Brent decommissioning project.
Preventative safety action: Scott MacDonald, offshore electrician with Archer.
Safety representative of the year: Nicky Elphinstone, a steward with Aramark.
Innovation in safety: Stork Technical Services and bSolutions at Banff and Buchan College.
Workforce engagement: Brent Delta decommissioning team.
Recommended for you

Decom North Sea readying for 'upsurge' in decommissioning campaigns