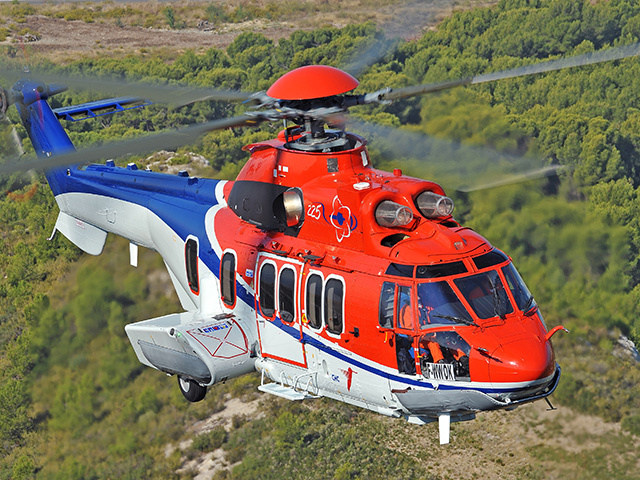 An offshore workers' union claims a helicopter manufacturer has "jumped the gun" by announcing a fleet of grounded aircraft could return to service by July.
Eurocopter said on Tuesday it had resolved technical problems that have kept 16 Super Pumas out of action since October last year.
Restrictions on use of the EC225 model – the "workhorse" of the North Sea oil and gas industry – were put in place after two ditching incidents.
New safety proposals put forward by the French firm will have to be approved by air regulators the European Aviation Safety Agency (EASA) and the Civil Aviation Authority (CAA).
Unite union regional industrial officer John Taylor said yesterday the timetable put forward by Eurocopter was "ambitious at best".
Investigations carried out following the ditchings in May and October last year revealed mechanical failures in the gearbox of the EC225.
Tests also revealed problems that resulted in a false alarm being issued over a failure of the lubrication system.
Mr Taylor said he was surprised by the announcement from Eurocopter on Tuesday, but reassured members they would not be flying on EC225s until a number of independent guarantees had been provided.
He said: "Eurocopter is a very professional organisation, but I think they have jumped the gun.
"We have visited the global HQ in France and, while the company has demonstrated their efforts to resolve the gearbox problem on the Super Puma EC225 type, a lengthy due process must be completed before the airworthiness of this helicopter is proven.
"And ultimately, the future of the Super Puma model will be subject to the Helicopter Safety Steering Group and only after a full consultation with workforce representatives would we even consider approving its return to active service in the North Sea."
A spokesman for the Civil Aviation Authority said: "Eurocopter is developing a solution short term and long term that will need to be approved by EASA.
"Once that is done, we would then look at our outstanding operational restrictions and see whether that could be lifted or amended."
Eurocopter said it was "confident" the first EC225s could return to full service by the end of June or middle of July.