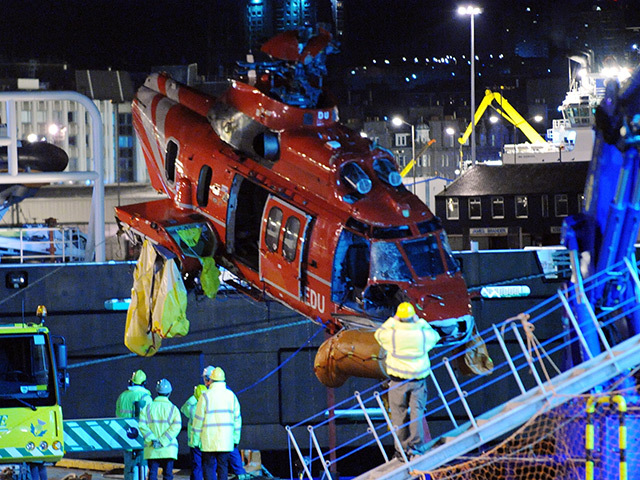 Major changes to offshore helicopter safety, including stopping flights in the most severe conditions, have been announced by air regulators.
The UK Civil Aviation Authority (CAA) has today published a range of measures following a "comprehensive" review of operations in the North Sea.
The recommendations include a reconfiguration of seating, pending further improvements, which would mean passengers will only fly if they are seated next to an emergency window exit.
All of those on board helicopters will be required to have better emergency breathing equipment to increase underwater survival time.
There will also be changes to pilot training and safety checks on offshore helidecks.
Click here for our Super Puma crash coverage
Helicopter operators will be expected to fit side floats to aircraft, add hand holds next to push-out windows, improve life rafts and install automatic flotation equipment.
The Offshore Petroleum Industry Training Organisation (OPITO) will also be expected to improve training for workers.
CAA chairwoman Dame Deirdre Hutton said: "The steps we are announcing today will result in significant improvements in safety for those flying to and from offshore sites in the UK and potentially worldwide. We expect helicopter operators, the oil and gas industry and EASA to move forward with recommendations to them as soon as possible."
The CAA will also establish a new safety forum to ensure the recommendations are acted upon.
Aberdeen North Labour MP Frank Doran said the report was a "welcome step forward" in offshore safety. But he added that it still does not answer "fundamental questions" posed by a series of incidents which have claimed the lives of 20 peole in the last four years.
He added: "The only way that the fundamental changes which need to be made in the North Sea oil and gas industry will be made, is when the whole industry is subject to proper scrutiny under an independent public inquiry."
Read full reaction and analysis of the CAA announcement in tomorrow's Press and Journal
Recommended for you

CNR scolded by HSE after delaying 36,000 hours of North Sea safety work