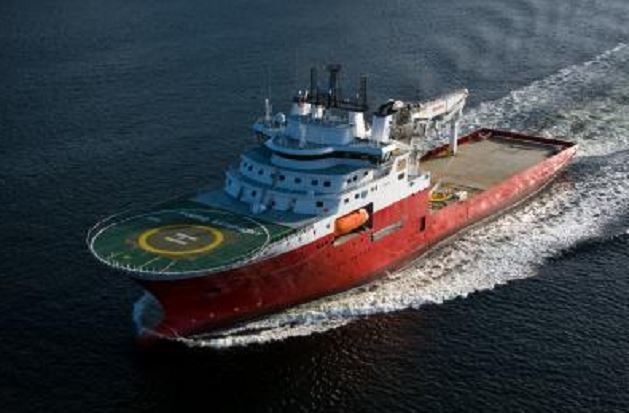 More than 80 crew were evacuated from an offshore support vessel after a blaze broke out in its generator room.
Thirty-five firefighters were called to Peterhead harbour after the alarm was raised on board the 426ft Fugro Symphony.
Two units from Peterhead, two from Ellon and one from Maud went to the scene.
A specialist foam unit from Aberdeen was also called and three firefighters wearing breathing apparatus along with a member of the ship's own fire team pinpointed the blaze in the ship's generator room on one of its lower decks.
It was extinguished using CO2 and automated onboard firefighting systems.
The blaze was discovered shortly before 3am.
Eighty-four crew from the Bahamas-registered Fugro Symphony were given temporary shelter at the Fishermen's Mission building in Peterhead's Union Street.
Mission superintendent, Steve Murray, said it was a "blessing" that no one was injured.
"I got a phone call from the coastguard at about 3.30am, and they asked if we could open the shelter for them," he added.
"They came in – about 80 of them – and got tea and coffee, but they weren't staying with us overnight.
"It was really just to give them somewhere safe and secure away from the quayside.
"They obviously didn't know a lot about what had happened, but they were quite relaxed. They knew things were under control with the fire brigade being there.
"They were really appreciative and thanked us, but it was the least we could do. That's what we're here for."
Yesterday, the vessel remained berthed at Peterhead's Smith Quay, with access controlled by on-site security.
A spokesman for Fugro Subsea Services, the ship's owner, said an investigation into the cause of the fire had been started.
"Fugro can confirm that there was a fire onboard the Fugro Symphony vessel around 2.30am this morning," he added.
"As a precaution all non-essential personnel onboard were immediately evacuated. No one was injured."
Built in May 2011, the Fugro Symphony serves the offshore sector by providing support to remotely operated vessels, such as mini-submarines, in the construction and survey markets.
The boat has two gyms, saunas and a 54-seat cinema.
Recommended for you

Workers on Equinor's Johan Castberg FPSO evacuated after fire