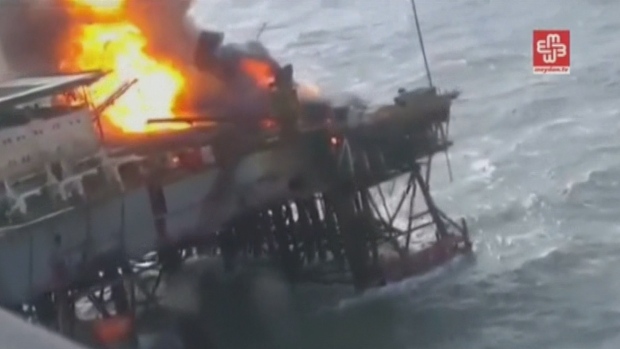 A survivor of a fire at the Guneshli field in Azerbaijan has told how workers were stranded on a lifeboat for 18 hours while they waited to be rescued.
Malakhat Aliyeva told reporters strong winds had made it challenging for rescuers to approach the lifeboat, which had around 26 people on board.
One person has been confirmed dead, while another 29 workers are missing, following the fire off the cost of Azerbaijan.
Socar, which is owned by the state of Azerbaijan, held a press conference earlier today and said 33 workers had been rescued while the search for others continued.
Aliyeva is now being treated at the Central Hospital of Oil Workers in Baku.
She said: "I went to the room to relax after work. Suddenly I heard an explosion and went out of the room. The security was ensured at the platform at a high level.
"I immediately put on a life jacket and went to the first unit. I tried to open the door. The first unit was filled with smoke.
"Then, we opened the door with the help of workers. We all approached the boat on the platform. Some 26 people got into the boat.
"We were about 17-18 hours there. We could not contact anyone. The phones were out of service.
"The representatives of the Ministry of Emergency Situations saved us in the morning. But a strong wind and high waves hampered the rescuers to approach our boat.
"The situation was controlled by the government. I thank everyone, including the president, for rescuing us."
Socar said the fire is understood to have happened after a windstorm damaged a gas line.
The company has also asked Iran, Kazakhstan, Russia and Turkmenistan, who share the Caspian Sea, to search their own territorial waters for the missing oil workers.
The fire was still burning yesterday, the company also said, after it reached one of the oil wells.
The company lost five workers in 2013 and 14 last year in similar accidents, said Mirvari Qahramanli, head of the Center for Protection of Oil Workers' Rights, a Baku-based advocacy group.