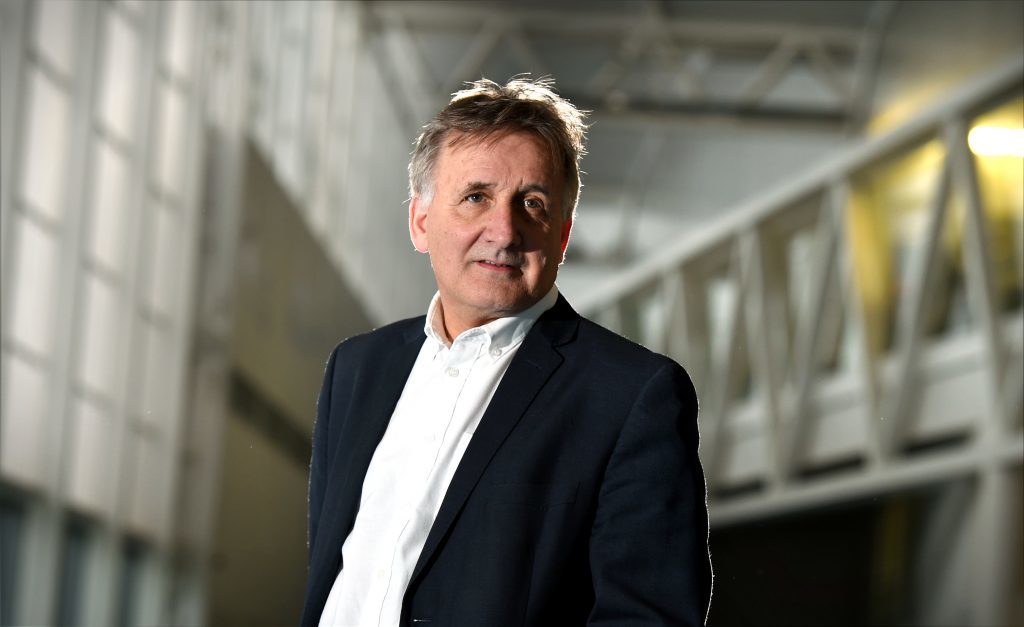 All this week Energy Voice is taking a look back at the events of November 6th in which 45 men lost their lives after a Chinook helicopter crashed on its return to Sumburgh Airport from the Brent Delta platform.
Energy Voice sat down with Aberdeen executive vice chairman George Yule, who at the time worked for Asco, as an operations manager.
Read his story below.
George Yule had just taken his first step on the managerial ladder when the worst helicopter disaster in the offshore industry happened.
He said November 6th, 1986 had begun like any other working day.
But within just a few short hours, on its return journey from the Brent field, a Chinook helicopter carrying 47 passengers had crashed off the coast of Shetland.
There were only two survivors that day.
The disaster was unprecedented and with no formal training, Yule and his onshore colleagues were dealing with a situation they had no experience of.
Yule said the first he heard of the incident was when local police called to make the team aware of the crash.
He said: "We were based at Regent Centre, we had our offshore coordinators, we had the guys who deal with the logistics of flights and equipment and everything and then I got a call from the police it was actually saying they wanted to make us aware of a helicopter ditching in the North Sea from the Brent field. We have manifests of flights leaving which platforms.
"I went through to brief the offshore coordinators to see if they'd heard anything because very often you get calls from guys on the platform and we found out it was Brent Delta.
"At that early stage we had a copy of the flight manifest with the names of those people who were on board. I don't know why it came into my head at the time, but I said to the coordinator, I want every incoming call logged. Who is phoning, who they're phoning about, what their relationship is and just a brief note of their reason for calling.
"We must have got that afternoon around about four or five hundred calls. There was as much confusion as you would expect, lots of anxiety from relatives, friends stuff like that.
"We had calls from people who weren't even offshore and of course from relatives. At that time I think by and large the families of people who worked offshore had very little idea about their working environment and their working rotas and their transport arrangements and stuff like that.
"We got calls from families of people who were on leave, and we need to keep a very tight and consistent regime of what we could and couldn't say which was effectively no more information just now, we're aware of a ditching in the North Sea, we can't confirm or deny any casualties because that lead was being taken by the police and Shell.
"So in amongst calls that day came instructions from police and Shell about protocol for communications.They would effectively issue us with a statement and we had to stick to that statement. Needless to say, in amongst all of that, the board of directors and staff at Asco were kept aware as well."
Yule said there was "real grief and disbelief and shock" over what had happened.
Thirty years after the crash, he is now executive vice chairman at Aberdeen Football Club.
But at the time Yule said "human instinct" kicked in as there was no "textbook training" for how to handle such an event.
"Day one in particular, from afternoon onwards, it was just complete mayhem. The working day would have started about 8am and I think it's fair to say the working day continued right through the night. With time came details. In a lot of cases we were hearing about stuff on the news but then other occasions we had an insight into stuff that would never make the news.
"Particularly when it came to casualties because the announcement of somebody fatally injured can only be given by the police to families so we needed to be able to make sure we kept tight on that.
"We had repeated calls from close family members just desperate to know what was happening because their husbands, their brothers, their fathers, were due home that day and they hadn't heard from them. You can imagine the panic and grief in their voices.
"I remember also probably within the first 24 hours going into a team brief up at Shell, with the police and the oil chaplain and the other companies and staff who were involved in this with Shell PR people and just being given an insight into how operations in a trauma work and what happens next," he added.
Before the 1986 accident Britain's worst civilian helicopter crash was in 1983 when 20 people died in the sea off the isles of Scilly.
In the days and weeks after the disaster, Yule took the role of going and meeting the relatives of the men from Asco who had passed away.
He traveled to homes from as far North as Invergordon and across country to Wales.
Yule said in the absence of formal training you "act with basic human instinct".
As he realised officers would be visiting families he felt as a company, Asco should do the same to address any concerns family members may have.
Officers made Yule check in with them throughout his tour of the UK to visit families.
He said: "In due course, questions changed from, is my husband, father, brother on this, are they okay? To one where they had been notified of fatal injuries or missing presumed dead."
One memory from his visits which will forever stick in his mind is that of a trip to a mining village in Wakefield.
Yule said: "A woman had two young daughters and she had lost her husband. I went into this house and this wee 12-year-old girl said to me, 'Mr Yule, would my dad have suffered in the crash?'
"I don't know the answer, nobody knows the answer, but you tell them what they want to hear, 'It would have been instantaneous, it would have been over in a flash'.
"I was only in my early 30s, first managerial job, company had never been through this I had never been through this. Going into peoples homes you needed to be focused and strong as well as being pretty compassionate as well.
"After everything was done I kind of broke down in my house just one night. After everything, it had been such a journey. Even now I still get goosebumps. You had to rely on your strong mindedness and a bit of adrenaline to get you through it.
"The last thing relatives wanted to see was their employer coming in the house blubbering. I was pretty emotional after it was all done. Police invited me in for a lunch down at Queen Street and they said we were really concerned about the trips you were taking, it was quite an undertaking.
"I'm not in any way saying this was a one man show in Asco but I can only remember the bits I was doing."
And 30 years on from the disaster, Yule said there is one life lesson that has stayed with him throughout.
He said: "There is nothing so grounding as a life or death situation.
"Out of this whole episode came a life long learning from me on perspective, being able to tell the difference between important and urgent.
"You've got to get positives out of any situation, you can't dwell on the negatives. The perspective that gave me on life and on important and urgent remained with me as not only as an individual but wherever I've gone to work."
Catch up with yesterday's coverage on Energy Voice. Pilot Pushp Vaid told of the moment the plane crashed and its impact on his life. Watch the video and read the article here.