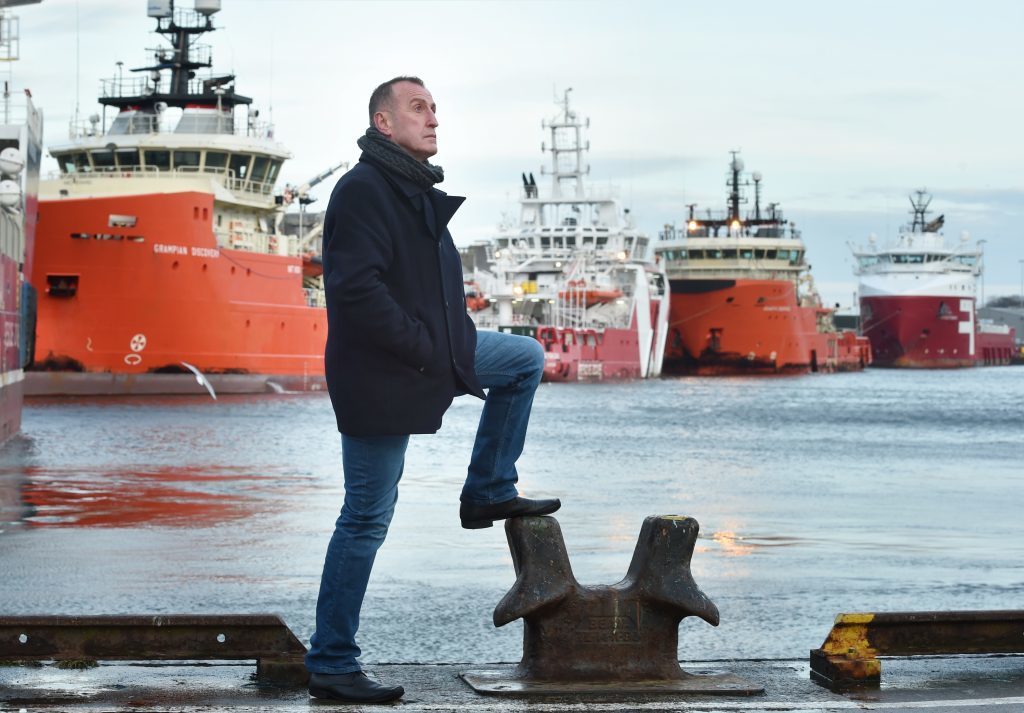 Last Christmas Kenneth Leggat was an offshore oil worker. This year the grandfather-of-one will be working in his local supermarket.
After 26 years in the sector, he was handed an 'at risk' letter by Transocean in October.
By the end of 2016 an estimated 120,000 people will have lost their jobs both directly and indirectly throughout the UK after the global decline in the oil price.
Mr Leggat said: "The rig I was on was getting scrapped, the Sedco 704."
He walked away with a £17,000 redundancy package, however, he knew co-workers with fewer years' service, who left empty handed.
"The government needs to review the consultation process, because companies aren't giving enhanced packages," he said.
" I don't think it's a fair way of dealing with redundancy because some people ended up with nothing."
Transitioning to unemployment was hard for the industry veteran.
For the first time in his life he went down to the local job centre in Aberdeen to sign-on for Job Seekers Allowance (JSA).
He said the process was quite "daunting" with his income drastically reduced to just £146 every two weeks.
The 58-year-old said: "I feel in a way that I just had to readjust. We all knew the state of the oil industry, so we were all waiting for it to happen. We just didn't know when we were going
to be made redundant.
"There was an atmosphere on the rig of when is it going to happen, who is going to be first? Basically you just had to keep your head down and do your job."
Mr Leggat sent out more than 150 applications before landing seasonal work with Sainsbury.
The Northfield native said the positive news had him "doing cartwheels."
"I feel within myself I have a bit of confidence now I have work, because before that I had sent over 150 CVs out," he said.
"Anything that was coming up I applied for in the hope of securing work, because I didn't want to be on JSA, because this was my first time out of work since leaving school so you can imagine what it felt like.
"Every two weeks you get £146 every two weeks. You can't survive on that, I certainly couldn't.
The work is temporary over the Christmas period, but he is hopeful it may turn into full-time employment.
He will work a 30-hour week from 10pm until 8am in the morning in the warehouse and stacking shelves.
At his induction meeting, he found himself surrounded by former oil workers.
At his induction there a number of other people who had also been made redundant from the sector.
He said: "There were quite a few other former employees there from the oil and gas industry. They're working in all different areas of the supermarket, in produce, in the kiosk.
"We were all sharing different stories from our experiences. There were young guys and then a few older guys who had had longer term service. The guys felt let down with how they had been made redundant."
Mr Leggat said getting his new job had been one of the high points since redundancy.
The lows, he explained, had been the daily monotony of waking up in the morning to turn on the computer and starting the job search all over again.
He added: "This is every day, plus looking after your home life. I have a partner with multiple sclerosis, so I look after her. You do the housework, go look for jobs and you have to do it to
satisfy the JSA that you're actively job hunting.
"The financial changes, you have to watch what you're spending when you're out, cut back on socialising and have to manage it appropriately otherwise you'll have nothing left in the bank."
Christmas this year "will be different" and quieter for his family.
But after his own experience he has some words of advice to those across the sector facing redundancy.
He said: "Keep working away and sending out CVs, believe in yourself that you will get a job. Don't let it get you down, if you think no one will employ you. When one door closes another one opens."
Tomorrow find out how one former oil worker spun his life back around by becoming a champion pole dance.
Recommended for you

BP hands out southern North Sea CCS contract