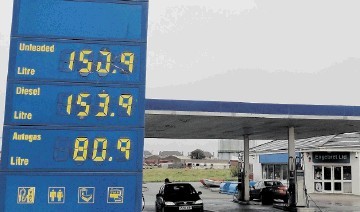 The European Commission has paved the way for the UK Government to launch a cut-price fuel scheme for the islands as early as November 1.
It will initially apply to petrol and diesel sold in Orkney and Shetland, the Inner and Outer Hebrides and the Clyde islands, as well as the Scilly Isles off the Cornish coast of England.
And although Treasury sources were cautious last night about an exact launch date, it is understood that Conservative and Liberal Democrat coalition ministers are determined to make the pilot scheme happen – and then persuade Brussels to allow it to be extended to remote parts of the mainland.
A European Commission document released last night announcing the November 1 date was hailed as a major step forward for the scheme, which would cut the cost of fuel by 5p a litre.
It means the shot-in-the-arm for hard-pressed motorists and hauliers which Chief Treasury Secretary Danny Alexander persuaded his coalition colleagues to back could now be just months away.
The Inverness, Nairn, Badenoch and Strathspey MP is likely to trumpet his success at the Liberal Democrat conference, which starts in Birmingham on Sunday.
A UK Treasury spokesman said: "We want to achieve this as soon as possible."
He described last night's development as "a positive step towards delivering savings at the pump".
Consultations are taking place on the practical implementation, and a proposal has been drawn up to provide forecourts with advance payments for two months.
The move follows fears that some filling station owners face bankruptcy if they had to finance the rebate themselves before claiming the money back from the Treasury. Under the option most favoured by coalition government officials, proprietors would start claiming two months before they had to cut prices to customers.
Orkney and Shetland Lib Dem MP Alistair Carmichael said: "This is a most important step along the road to reducing the price of petrol and diesel for island communities."
Western Isles SNP MP Angus MacNeil said: "A Scottish Government would have achieved this ages ago, and it would apply to a larger area of the country.
"This is a test of Europe as well as this government.
"We want to make sure no further bureaucracy holds it up so it can start as soon as possible."
Road Haulage Association director Phil Flanders welcomed progress on the pilot scheme but said it was just a first step and the extent of the scheme should be looked at "urgently and closely".
He said there were numerous areas on the mainland – naming Ardnamurchan and the Mull of Kintyre as examples – where pump prices were "particularly high compared to central areas because of the high transport and distribution costs".
He added: "A 5p per litre duty discount will go some way to helping ease the financial burden in these areas but more must be done."
Shetland Lib Dem MSP Tavish Scott said island motorists endured a 4p-a-litre rise in one day last week at some filling stations, widening the difference with average prices on the mainland to 20p.
Donald Manford, chairman of the Western Isles Council's transport committee, welcomed the development as a positive step forward, but pointed out that the price of fuel on the islands was 20-25p more expensive than that bought on the mainland.
He said: "The cost of fuel is crippling Highland and island communities when the production of that very fuel is on our doorstep."