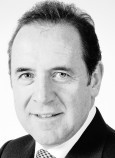 Banchory-based Sterling Resources has been given official approval to develop its first large-scale venture, marking a major milestone in the oil and gas explorer's growth.
Sterling said initial gas production on the southern North Sea Breagh field was now less than a year away after its £400million plus field-development plan was approved by the Department of Energy and Climate Change yesterday.
The field, about 62 miles east of Teesside, is one of the largest natural gas discoveries to be developed in the UK southern North Sea in recent years.
A development plan was signed by energy minister Charles Hendry at the London office of operator RWE Dea UK, which has a 70% working interest in the field; the rest is held by Sterling.
Sterling chief executive Mike Azancot said: "This is a key milestone. We have been involved in Breagh for the last six years as operator, initially, through a promote licence having discovered gas there.
"This is important for us because we are now involved in developing rather than just exploration; it marks our evolution to an exploration and production company.
"Now, with initial gas production only about a year away, Breagh will be a cornerstone to our future growth plans."
The move means Sterling will have a cash flow from the middle of next year, when its share – a predicted 40million standard cubic feet, due to increase to 60million by 2013-14 – starts to flow.
To fund its share of the project it agreed its first major debt financing last week of £105million.
Mr Azancot said that while the changed UK tax regime for oil and gas explorers was disappointing, it should not be too affected.
About 62 miles of pipeline has been laid and a platform, constructed by Heerema Vlissingen in the Netherlands, is due for installation in early September.
The field is to be developed in two phases. In the first gas will be exported from the Alpha platform to Coatham Sands, Redcar, and on to processing at the Teesside gas-processing plant at Seal Sands.
Phase two, due to be submitted for approval later this year, will include additional wells in the east of the field drilled from a Bravo platform tied back to Alpha. It also wants to let the new infrastructure to third parties.
The firm is also looking at carrying out appraisal tests on a further discovery, called Crosgan, to the north-east of the field. The entire field is estimated to contain 700billion cubic feet of gas.
Sterling is listed in Canada and has assets in the UK, Romania, France and the Netherlands.