A downbeat FTSE 100 Index was dragged lower today by more eurozone economic gloom.
The London market closed down 27.9 points at 6,430.1, a 0.4% fall, as investors await the latest decision from the European Central Bank with policyholders widely expected to cut interest rates later this week.
Banking stocks set the pace among risers after Lloyds posted first quarter profits of nearly £1.5billion – much better than the £497million seen a year earlier and the £1.1billion forecast by City analysts. Shares closed up 0.83p at 54.33p, a 1.6% gain, which gave a boost to Royal Bank of Scotland. The bank's shares surged 12.3p to 306.6p.
Meanwhile, Whitbread's shares fell despite an 11% rise in underlying profits for the year to February 28. Profit-taking from investors sent its shares down 56p or £25.55, a 2.2% fall.
Fashion chain ASOS also laid out ambitious targets after it posted 11% growth in profits to £25.7million, buoyed by international expansion and resilient trading in the UK. Shares responded with a rise of 124p to £32.
The biggest risers on the FTSE 100 included BP up 9.65p to 466.4p, Pearson 21p ahead at £11.71 and Arm Holdings, 17p higher at 996p.
The biggest fallers on the FTSE 100 were Polymetal International, down 44p to 695.5p, Randgold Resources, off 215p to £50.60, Admiral Group down 44p to £12.81 and Standard Life, 11.3p lower at 374.2p.
Stuart Lamont, of investment manager and financial planning specialist Brewin Dolphin in Aberdeen, noted that EnQuest gained 1.82% to close at 129.45p.
Fallers included FirstGroup, which shed 4.09% at 210.65p, while Optos which gave up 3.29% to finish at 163.875p.
Recommended for you
X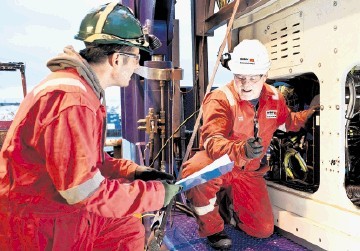 Pledge to end coming and going of UK energy ministers