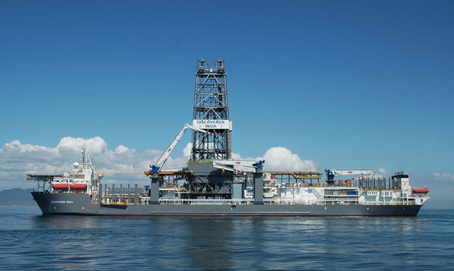 Chevron Corp. lost money for the first time in more than 13 years as a collapse in prices for the global oil explorer's main product forced it to write down the value of crude and natural gas fields. Shares fell.
The fourth-quarter net loss was $588 million, or 31 cents a share, compared with profit of $3.5 billion, or $1.85, a year earlier, the San Ramon, California-based company said in a statement on Friday. The per-share result was worse than any of the 22 analysts in a Bloomberg survey whose estimates ranged from gains of 29 cents to 63 cents.
Chevron's results were hurt by $1.1 billion in charges as the plunge in energy prices slashed the long-term earning power of its portfolio of oil and gas holdings, according to the statement.
The impact of tumbling prices more than wiped out any upside from the 3.5 percent increase in output from Chevron's wells during the quarter. The company's geologists discovered enough new crude and gas to replace 107 percent of what it produced during 2015.
Shares were down 1.8 percent to $84.37 as of 8:51 a.m. in New York, in trading before regular market hours.
"We're taking significant action to improve earnings and cash flow in this low price environment," Chief Executive Officer John Watson said in the statement.
Chevron's U.S. oil and gas business posted a $1.95 billion loss for the period as falling crude prices that lessened the future value of its fields added to the pain from rising exploration expenses.
Chevron, the largest U.S. oil producer after Exxon Mobil Corp., has slashed headcount, canceled drilling projects and frozen dividend payouts to slow the exodus of cash as the collapse in world energy markets saw prices spiral downward 70 percent.
Spending on drilling rigs, steel pipe, floating platforms and other equipment dropped 16 percent in 2015 to about $34 billion, according to the statement. Last month, the company said it plans to spend about $26.6 billion on such developments this year, which would be a 22 percent cut from 2015.
Watson is betting population growth and rising standards of living in the globe's most-populous regions will boost demand for diesel, kerosene, liquefied natural gas and other petroleum-based fuels for decades to come.
The current glut-driven slump in prices is a temporary phenomenon that will be eclipsed by long-term demand growth, Watson has said repeatedly since the global benchmark Brent crude began its precipitous fall from a June 2014 high of $115. Chevron's output worldwide is about 66 percent crude; the rest is natural gas and gas byproducts.
The glut has prompted a market-share battle between The Organization of Petroleum Exporting Countries and other global producers. Saudi Arabia, the world's biggest exporter, has refused to curtail its output and said it will be up to higher-cost producers such as U.S. shale drillers to help rebalance the market.
Chevron's statement was released before the opening of regular U.S. equity markets. Chevron rose 3.2 percent to $85.92 on Thursday in New York trading. The stock has tumbled 17 percent in the past year.
Chevron said Wednesday it will pay out a $1.07-a-share dividend in March. The payout, which hasn't been raised since April 2014, will cost the company about $2 billion.
Recommended for you

Chevron delivers first ever carbon-neutral LNG cargo from Gorgon