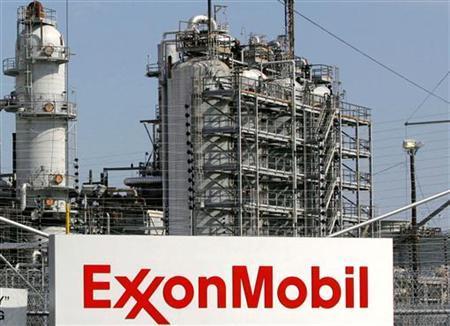 Exxon Mobil may lose its top-notch credit rating from Moody's Investors Service as the oil-market collapse imperils cash flow needed to cover debt payments and investment in new discoveries.
Seven of the other largest US energy explorers also were put on notice or downgraded by Moody's Thursday after the rating company concluded crude prices will remain weak for years.
The Moody's review featured a Who's Who of American oil and gas heavyweights, from Chevron to Marathon Oil to ConocoPhillips.
The outlook for Exxon, which has held Moody's top AAA rating for more than 90 years, dropped to negative from stable, the rating company said in a statement on Thursday. The move followed a warning earlier this month from Standard & Poor's that its own rating on Exxon's debt may be in jeopardy.
"The negative outlook reflects our expectations of negative free cash flow and weak cash flow based leverage metrics," Moody's said.
"While the company is cutting its capital spending and operating costs in response to lower commodity prices, this diminished level of capital reinvestment could adversely affect Exxon Mobil's reserve replacement and production profile in the latter part of this decade."
Exxon, which traces its roots to the 1800s when kerosene began competing with whale oil as household lamp fuel, has annual revenues that dwarf the economies of most of the nations in which it operates.
The Irving, Texas-based company's platinum credit rating gives it an edge in competing with rival drillers when negotiating exploration concessions with oil-rich nations, chairman and chief executive officer Rex Tillerson has said.
"Exxon Mobil places a high value on its strong credit position and continues to be focused on creating long-term shareholder value despite near-term market volatility," Scott Silvestri, an Exxon spokesman, said in an e-mailed statement on Thursday.
Credit rating firms have been downgrading drillers, explorers and even entire nations as the oil-price crash erases revenue relied upon to pay debts and fund day-to-day operations. The downgrades have spanned from US shale fields to offshore Brazil. Deep cuts to headcounts and exploration spending haven't been enough to shield balance sheets from the impact of slumping prices.
Any prospects for a rebound in crude prices were dashed earlier this week when Saudi Arabian oil minister Ali al-Naimi told the IHS CERAWeek conference in Houston that the nation that controls about one-tenth of the world's oil supply won't be cutting output to boost the market.
Iran, a Saudi rival that is also one of the largest OPEC producers, dismissed any talk of scaling back production.
Moody's lowered ratings for Occidental Petroleum Corp., shale driller EOG Resources Inc., Marathon and and Devon Energy Corp. on Thursday.
Those placed on review for possible downgrades alongside Exxon included Chevron, ConocoPhillips and Apache Corp. Exxon, Chevron, Occidental, ConocoPhillips and EOG are the five largest US oil producers by market value, according to data compiled by Bloomberg.
The market-rout contagion has spread to other sectors of the economy such as Alabama steel mills that make pipes for oil wells and Wisconsin sand mines that supply material for fracking crews in the U.S. Great Plains.
Laid-off petroleum engineers and geologists are turning to private car service Uber Technologies Inc. to make a living in Texas, Oklahoma and North Dakota. Halliburton Co., the world's second-largest oilfield services provider, said Thursday that it will cut another 5,000 jobs, expanding its total layoffs since the end of 2014 to 29,000.
Recommended for you

Occidental Petroleum in talks to buy CrownRock, WSJ reports