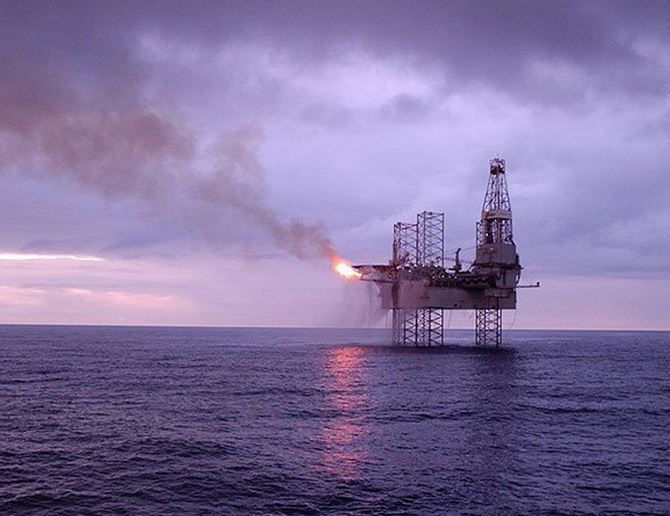 George Osborne has announced a package of measures worth £1billion to help the North Sea oil and gas industry.
The Chancellor has scrapped the Petroleum Revenue Tax and cut the Supplementary in half to 10%.
He said the measures would help support "this key Scottish industry" and have been back-dated to the beginning of this year.
Scottish Secretary David Mundell said the measures would "help protect jobs and the long-term future of the north-east".
Finance Secretary John Swinney had called for a raft of measures to help the industry, including tax relief to help decommissioning.
But in a swipe at the SNP, Mr Osborne told the House of Commons: "The oil and gas sector employs hundreds of thousands of people in Scotland and across our country.
"In my Budget a year ago, I made major reductions to their taxes.
"But the oil price has continued to fall. So we need to act now for the long term.
"I am today cutting in half the Supplementary Charge on oil and gas from 20% to 10%, and I'm effectively abolishing Petroleum Revenue Tax too.
"Backing this key Scottish industry and supporting jobs right across Britain.
"Both of these major tax cuts will be backdated so they are effective from the 1st of January this year, and the Exchequer Secretary will work with the industry to give them our full support.
"We are only able to provide this kind of support to our oil and gas industry because of the broad shoulders of the United Kingdom.
"None of this support would have been remotely affordable if, in just eight days' time, Scotland had broken away from the rest of the UK, as the nationalists wanted.
"Their own audit of Scotland's public finances confirms they would have struggled from the start with a fiscal crisis under the burden of the highest budget deficit in the western world.
"Thankfully, the Scottish people decided that we are better together in one United Kingdom."
Opposition parties have said the announcement "doesn't nearly go far enough", while Derek Leith, Head of Oil & Gas Tax, said he was disappointed with the measures.
He said: "Today's announcement of a 10% cut in corporate taxes, and the effective abolition of Petroleum Revenue Tax for the UK oil and gas sector will fall short of industry expectations.
"Since 2011 there has been a compelling case to lower the tax burden to recognise the maturity of the basin, the high cost base, and the falling production efficiency of older assets which
support vital offshore infrastructure.
"The case for a significant change to the oil and gas regime has been exacerbated by the collapse in the oil price. Decisive action by the government was required to send a strong signal to investors.
"Today's changes, while welcome, are a missed opportunity to be more radical and abolish supplementary charge completely which would have simplified the regime by sweeping away the complexity of investment allowance and its interaction with decommissioning losses."
Scottish Labour leader, Kezia Dugdale, agreed.
She said: "The Chancellor's announcement on support for the oil and gas industry is welcome, but it doesn't go nearly far enough.
"What we needed to see from the Chancellor today was support to make sure that essential infrastructure such as platforms and pipelines are not decommissioned early.
"That's why Labour is calling for the establishment of a new government agency – UK OIL – to make investments in infrastructure."
But Mr Mundell welcomed the £1billion of support.
He said: "This is a very good Budget for Scotland – it shows the UK Government has listened and delivered.
"We have responded to the crisis in the oil and gas industry with a major package of measures worth £1 billion to the sector.
"That's on top of the £1.3billion of support previously announced in last year's Budget and the £250 million Aberdeen City Deal. This will help protect jobs and the long-term future of the north-east."