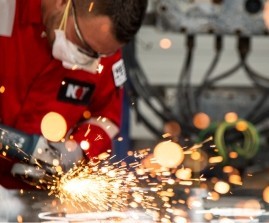 National Oilwell Varco cut its quarterly dividend to $0.05 per share in response to market conditions which continued to deteriorate through the first quarter of 2016.
NOV chief executive Clay Williams, said: "We believe reducing the dividend is in the best interest of our company and our shareholders as we continue to work our way toward the bottom of this severe down cycle.
"Substantial decreases in 2016 E&P capital plans are driving activity levels to new record lows, resulting in significantly diminished demand for equipment and services."
"Based on preliminary information, first quarter revenues will be down approximately 20% from the $2.7 billion recognized in the fourth quarter of 2015. Importantly, although the near-term outlook remains challenging, NOV remains strong financially. NOV's total debt decreased by over $500 million during the first three months of 2016 and the decision to reduce the dividend is expected to improve future net cash flow by approximately $615 million per year.
"We believe the dramatic reductions in capital spending are accelerating global production declines, setting the stage for a recovery in demand for NOV equipment and technologies. Reducing our dividend will allow us to preserve capital to invest in future growth opportunities and enhance the core capabilities our customers will need when industry activity increases."
Recommended for you

Shell lifts dividend and starts $2bn share buyback programme