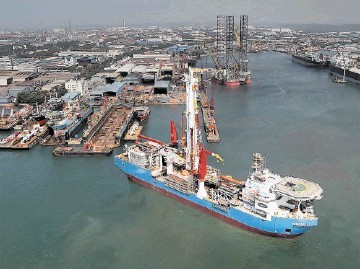 Noble Group Ltd. plunged the most in more than four years after Fitch Ratings Ltd. placed the company's debt ratings on negative watch as Asia's largest commodity trader was seen facing less financial flexibility amid a challenging market.
The shares sank 14 percent to 35 Singapore cents on Monday, the most since November 2011. The stock bottomed at 27 cents in January after tumbling 65 percent in 2015, and swung back to a high this year of 49 cents in March.
Noble is seeking to chart a recovery in 2016 after a savage year in which it posted the first annual loss in almost two decades, had its credit rating cut to junk and saw its shares sink along with a rout in raw material prices. Fitch said it expects the trader will focus more on shorter-term and secured financing to cut borrowing costs amid a difficult operating environment, which may result in less financial flexibility for the company, the ratings firm said on Friday.
"Another potential credit downgrade will have an impact on their ongoing debt refinancing efforts, making it more difficult to roll their debts," said Margaret Yang, a strategist at CMC Markets in Singapore. "Fitch reminded the market about the prolonged problems associated with this company."
The negative watch will be resolved when Noble completes the refinancing of its committed bank facilities due this month, and on the announcement of its quarterly results, Fitch said. The resolution will also reflect the agency's revised assessment of Noble, including taking into account its focus on short-term debt financing in the future and its improved balance-sheet structure after it repays debt, Fitch said.
While the costs of the group's revolving-credit facility are seen rising, its weighted average cost of debt is expected to remain about the same, Chief Executive Officer Yusuf Alireza said last month. An external media representative for Noble in Singapore declined to comment on the stock move on Monday.
Recommended for you

Fitch takes Indonesia's Medco off rating watch after ConocoPhillips acquisition