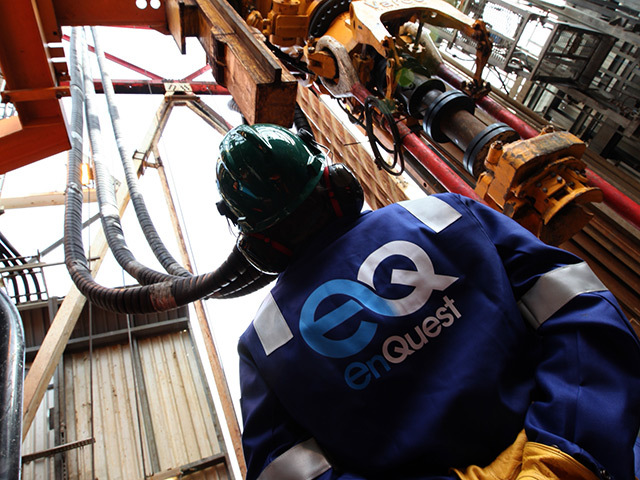 EnQuest expects to deliver its full year production guidance this year citing improved performance from its North Sea assets as a major factor in the increase.
The company said production in the first four months of 2016 averaged 42,752 barrels of oil equivalent per day, 39% higher than a year ago.
Full year production guidance remains between 44,000 Boepd and 48,000 Boepd, a hike of 20% to 30% year-on-year.
Last month's production was higher at 45,933 barrels of oil equivalent per day, a rise was driven by an improved performance from the wells on the Alma/Galia field in the North Sea.
2016 production from the rest of EnQuest's North Sea fields was up 19% year on year, with Malaysia up 27% – reflecting continuing high levels of production efficiency.
The company said its North Sea fields reported a 19% year-on-year rise in production in the first four months of the year whilst its operations in Malaysia reported a 27% lift.
Production in November and December last year averaged over 50,000 barrels of oil equivalent per day, meaning that production has declined since the start of the year.
However, production in 2016 is well ahead of the average rate over the whole of 2015 of only 36,567 barrels of oil per day.
Alma/Galia has six wells producing around 9,017 barrels of oil equivalent per day during April as the project continues to be optimsied and ramped up.
EnQuest also expects to meet its cost reduction targets this year, forecasting average unit operating costs of between $25-$27 per barrel produced over the whole year and into the low $20s after the Kraken development is fully onstream.
In comparison, earlier this month CNR confirmed its quarterly crude oil operating costs for the North Sea averaged $47 per barrel.
EnQuest – the largest UK independent producer in the UK North Sea – said the Scolty well was in line with expectations whilst the results from the Crathes reservoir were ahead of expectations adding it will bring forward the drilling of the Eagle prospect to the second or third quarter 2016.
The company reported net debt of $1.63 billion at the end of April.
Chief executive Amjad Bseisu, said: "EnQuest continues to focus on its strategic priorities in this low oil price environment: strengthening the balance sheet, delivering on production and execution targets and streamlining operations.
"The targeted reductions in capex and opex announced in March are being realised, in conjunction with continuing excellent operational performance."
Recommended for you

Shareholders get behind EnQuest's Golden Eagle swoop