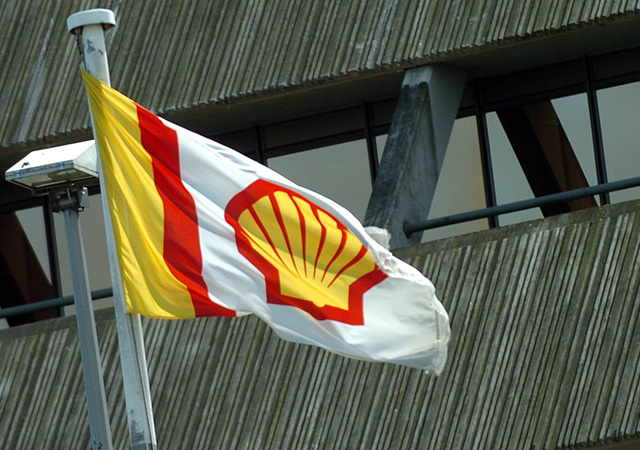 Shell boss Ben Van Beurden said the company was fully focused on being the world's number one oil and gas company.
Setting out pathway for future years – he said it would be done with less cost, less spending and 12,500 fewer staff.
Shell's merger with BG makes it the world's second biggest international oil company behind Exxon Mobil
The North Sea remains part of the company's plans with the UK being one of 10 regions that would play a role in its longer term oil and gas portfolio.
Shell plans to sell $30billion worth of assets around the world by around 2018 and quit operations in 5 to 10 countries to boost its balance sheet. It did not say which countries it might exit, but chief financial officer Simon Henry said the UK remained part of the company's strategic plans.
Van Beurden said: "Today, we are setting out a transformation of Shell. Our strategy should lead to a simpler company, with fundamentally advantaged positions, and fundamentally lower capital intensity."
Capital spending would be in the range of $25-$30bn a year to 2020. For 2016 it will be $29bn, down from a forecast "trending toward" $30bn, which was itself down from an earlier projection of $33bn. In comparison – Shell's 2013 capex was $56billion.
Van Beurden, speaking at a presentation to investors in London, said spending may go even lower if oil prices sink below their current levels, but would not go higher, even if oil rises to $60 dollars or more.
Setting his remarks in the context of a volatile industry backdrop, van Beurden said: "I see important opportunities for Shell from the substantial and lasting changes underway in the energy sector.
"We expect to see robust demand for oil and gas for decades to come, in a global energy system in a long-term transition to lower carbon fuels. As well as low oil prices today, we are seeing higher levels of price volatility, due to geopolitical change, the speed of information flows, and the pace of innovation in our sector.
Van Beurden said Shell's growth priorities in the near term were deepwater – in the Gulf of Mexico and offshore Brazil, which the firm believes has multi-billion dollar potential. The company will also aim to grow its chemicals business, particularly in the US and China.
He said Brazil and the Gulf of Mexico represent the best real estate in global deep water. Shell's deep-water production could double, to some 900,000 barrels of oil equivalent per day (kboed) in 2020, compared with 450 kboed in 2015.
In the longer term Van Beurden said it would look to develop its new energy portfolio adding biofuels, gas, solar and wind.
Chief financial officer Simon Henry said the company expects to make at least $3billion mainly from downstream disposals this year as refining and retail are less prone to oil price fluctuations.
Henry said: "We are not planning for asset sales at giveaway prices. If it takes a little bit longer to preserve shareholder value, then so be it."
Henry said there had been a series of tough decisions on capital projects.
"Only the most competitive projects are actually going ahead," he said.
Many projects have been deliberately delayed, or cancelled by the company as it aims to curb spending.
Henry said Shell could achieve further reductions in spending through supply chain reductions or cancelling or deferring further projects to achieve this.
Turning to the recent acquisition of BG, van Beurden said: "The BG deal is an opportunity to accelerate the re-shaping of Shell. Integration is gathering pace, and today we expect to deliver more synergies, and at a faster rate."
Cutting capital expenditure and operating costs was part of the company's "lower forever" mentality. Henry said the staff reduction programmes were a difficult but necessary process the company was undertaking. It was also cutting costs in the supply chain and its contractors.
With regard to new energies, Van Beurden said "We have to be there if we want to be relevant in 50-100 years time. We have to go there, but it has to make economic sense."