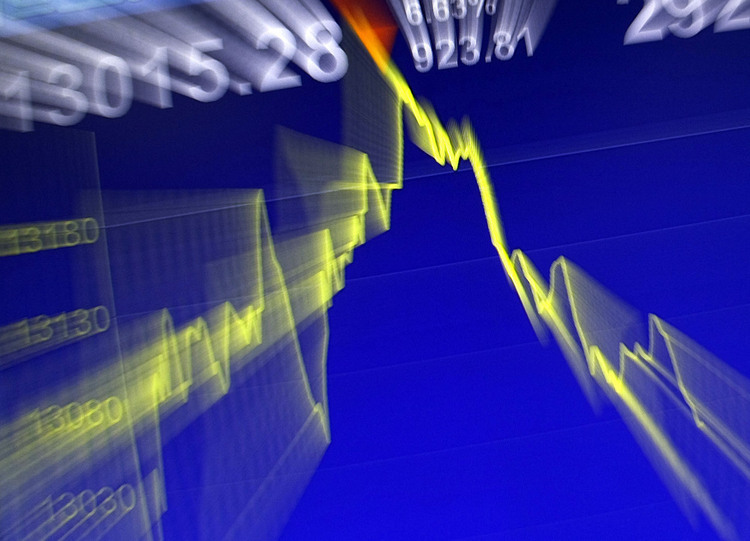 The London market was teetering on the brink of a four-month low after Wednesday's bounce-back was scuppered by Brexit fears.
The FTSE 100 Index was 39.4 points lower at 5928.4 as investor jitters over the approaching referendum punished Britain's biggest banks.
Barclays bore the brunt of the sell-off, down more than 2% or 4.3p to 156.7p, as it is widely thought the lender would be the most exposed by a Leave vote through investment and corporate banking.
Royal Bank of Scotland was down 5p to 212p, while Lloyds Banking Group was 1.3p off at 61.8p.
Benchmark London Brent crude did little to help the situation, sliding 1.5% to 48.23 US dollars (£34) a barrel as it continued Wednesday's falls triggered by a surprise rise in US crude
inventories.
The falling oil price put commodity stocks under pressure, with Royal Dutch Shell 12p lower at 1710p and miner Anglo American dropping 12.1p to 618.3p.
There was some support for the London market from across the Atlantic after the Federal Reserve pushed a US interest rate rise into the distant future amid concerns over a recent slump in the American jobs market and uncertainty over Britain's vote on Europe.
Sterling, which hit two-month lows against the US dollar and euro on Monday, was also on the back foot, with little sign of the referendum's Remain vote gaining strength.
The pound was down 0.2% against the dollar at 1.417, with the markets also waiting to hear the Bank of England's latest decision on interest rates, which are expected to be kept on hold at 0.5%.
Further warnings from the Bank that a Brexit vote would harm the UK economy could also put the pound under pressure as the day moves on.
The pound was also 0.2% down against the euro at 1.257.
In stocks, discount retailer Poundland was on the up despite posting a slump in annual profits after a "challenging but transformative" year.
It comes after South African retail group Steinhoff – which owns UK furniture firms Harveys and Bensons For Beds – revealed late on Wednesday that it had bought 61.2 million ordinary shares in
the budget retailer and confirmed any potential offer would be made in cash.
Annual results laid bare the group's sales woes as underlying pre-tax profits fell 13.5% to £37.8 million in the year to March 27.
Shares rose 3%, or 6p, to 206p.
Recommended for you
X

AFC Energy gets European cash boost